Twenty-eight-year-old Moniek van Rossum has brought her dairy upbringing, her passion for goats, and her sound academic background to her role as herd manager on a dairy goat operation in Roto-o-Rangi, near Cambridge.
Her parents are Dutch immigrants, Piet and Winy van Rossum, who came to New Zealand in the mid-1980s, enticed by the opportunity to become full-time dairy farmers.
Through Dutch contacts in the country, they were soon dairy farming in Morrinsville, where Moniek was born in 1990. They moved to an equity partnership in Southland, where land was cheaper, and "flatter like Holland" for her mum.
"I grew up immersed in farm life and was relief milking from the age of 12."
Moniek studied for a BA in Agricultural Science at Lincoln, followed by a Masters in Agricultural Science, majoring in both plant and animal science. Netball featured strongly, with the 1.94m athlete enjoying a stint as a goalkeeper with the Southern Steele squad.
"I loved that combination of study, training, and relief milking," says Moniek, who has remained a plant and forage research technician at Lincoln University.
Netball
Her netball abilities resulted in an offer to play semi-professionally for Loughborough Lightning, England. But she found the change to training and playing full-time unfulfilling.
"After doing some travelling, I went to where my family had come from in Holland, and ended up working on a dairy goat farm in Lelystad."
It was here that the fluent Dutch speaker fell in love with goats. "They are so friendly and much easier to handle compared to cows.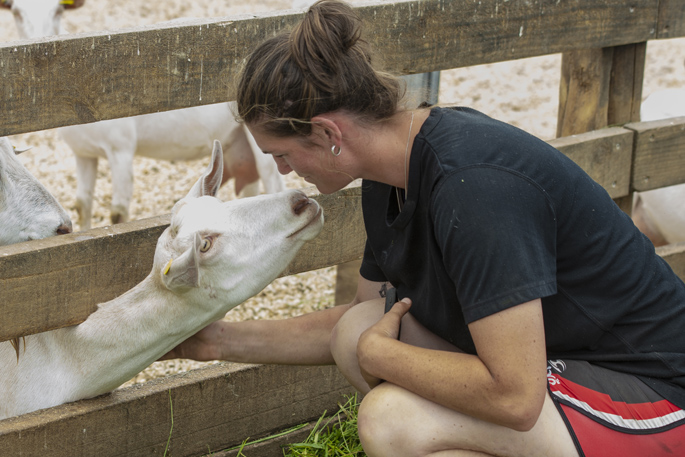 "The farming is completely different, with more to do and much more labour-intensive."
A homesick Moniek returned to New Zealand in 2014, and took up a "fantastic opportunity to put her degree to use" as a trainee dairy farm consultant.
"While I enjoyed the work very much, computer life was not for me. I love being out on the farm."
Eager to work with dairy goats again, Moniek moved to the North Island for employment, where the majority of dairy goat farms are found.
Roto-o-Rangi
After a year in Pukeatua, she now works as herd manager on one of two KDG Farms at Roto-o-Rangi.
Moniek, overseer John Knowles, and three other staff, run the 1100-goat operation there. The herd is mainly Saanen goats, with some Toggenburg and Alpine Cross.
Based on herd testing results, the top 100 does are artificially inseminated in February, generally with imported semen. The farm's 50-strong billy goat contingent runs with the rest of the does for a couple of months.
"Goats have a five-month pregnancy and kidding occurs from July to August. Any empty goats continue to be milked, and low milk producers are dried off.
"The high milk producers maintain both health and milk production and we continue milking."
Kids remain with the does for 12 hours. Around 35 per cent of the doe kids are kept, but the billy goats and does from the lower-producing mothers are sold for kid meat.
Daily milking is labour-intensive, taking three hours at 5am, and two-and-a-half hours at 2pm.
"We run a rotary, 62-cup shed, and all our milk goes to the Dairy Goat Co-operative. Most is made into baby milk powder and exported overseas," says Moniek.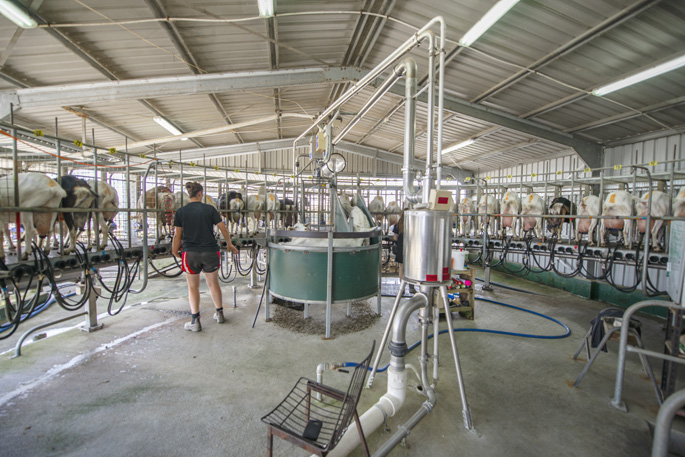 The 42ha farm and 75ha run-off produce almost all the feed required. Plantain, lucerne and rye grass are grown for fresh cut-and-carry feed. Maize is grown for silage, and bailage and conventional hay is made. "We buy in brewer's grain, maize grain and molasses. Feeding is very controlled, and plentiful, which gives better health all round." The staff do two pasture cuts every day, each yielding five tonnes fresh weight of green cut-and-carry.
Winy
During the peak, 3.61 litres of milk per goat per day is the average. A good dairy goat will produce 125 kg/Ms per annum through its three to five years in the herd.
Farm owner Alistair Kirkby is a practising vet, and regularly visits Roto-o-Rangi to carry out all de-horning, vaccinations and general vet treatments himself.
Goats are susceptible to many health issues and are kept under cover permanently in large poly tunnels and one new purpose-built shed, with outdoor play areas available.
Extractor fans clean the air, and the goats are on a deep bed of untreated wood shavings.
Moniek would love to own her own dairy goat farm and is exploring options to grow her equity for buying into the NZ Dairy Goat Co-operative. She is inspired by the achievements of her mother, Winy.
"After dad passed away, she continued to run the Southland farm alone and now has five dairy platforms down there. She is an amazing business woman and I really look up to her."
With her mum's mentorship, her own determination, and many of the original dairy goat farmers starting to retire, Moniek's dream is within her grasp.