Hundreds of people from near and far converged on a family farm in Ngarua one day in March to witness, purchase or pay tribute to the outstanding John Deere tractor and machinery collection belonging to the late Neil Houghton.
Since his passing in 2016, Neil's family had taken their time to decide what to do with their father's legacy. Sons Reece, Brent, Torrey, Stafford and Darryl Houghton explored several options.
"We talked to museums, we looked at setting up a museum ourselves, but we decided to go to auction," says Reece.
"Dad spent 30-plus years collecting, restoring and rebuilding these machines, and they were driven and used. He loved sharing them with people and we wanted that to continue."
Torrey spent four months working on the machines to get them in shape. Reece and Brent came on board six weeks before to help set up what would be a memorable day on March 9.
Last November Alastair Beer, of Alastair Beer Auctions, began marketing the 165 items, which included a rare John Deere L tractor.
"This was the best quality auction of this type I've ever seen, and certainly the most items sold at one time," says Alastair.
He commends the family on their organisation of the event. The auction day on March 9 had a carnival atmosphere, with food trailers, bunting, John Deere memorabilia, and a row of portaloos. Their planning was spot on, with an estimated 350 people turning up, and around 200 cars parked in the front paddock.
"We had a couple of bidders from overseas, some from the South Island, and there were some serious collectors there," says Alastair.
"There were also people bidding live online, competing in real time with the bidders physically at the auction."
The family bought back six of their favourite items themselves, the John Deere 70, G, L, B, 1020, 2020, a number of stationary engines and ice cream maker, along with the Lilliput caravan.
"The Lilliput was Dad's tractor trekking caravan, it was pulled behind a John Deere 2020," says Reece.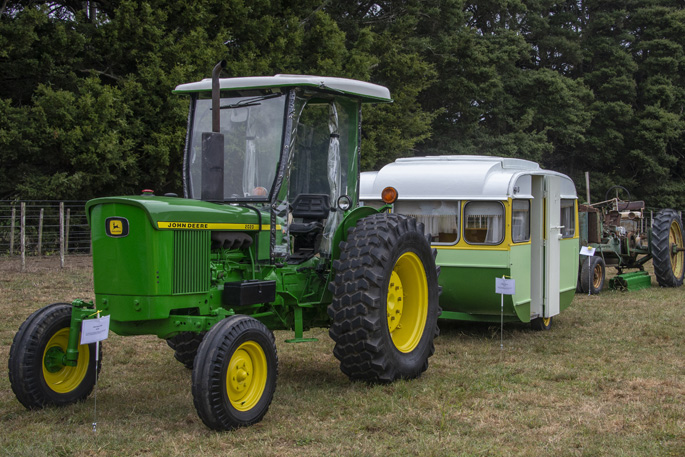 "He was a very active member of the Waikato Vintage Tractor and Machinery Club Inc, joining them on treks and other outings."
Reece says the family is happy with their decision to offer the pieces to the public. "It was a real thrill seeing young guys buying them as the first tractor for their own collection."
And so, Neil Houghton's legacy will live on through the next generation of machinery lovers.