Broadforks are a handy tool for market gardening and now a Papamoa couple have designed and manufactured a smaller version for home gardeners.
Marco and Tess Partridge of 'Crafty Gatherer' set up a demonstration 'plot' in a raised wooden box in the Fieldays Innovation Centre to launch their 'Forksta' to the public.
Marco Partridge demonstrates how to use the Forksta he has designed and manufactured.
Traditional broadforks can be a little big for the home gardener, so Marco (the crafty one) decided to design and produce a smaller version which he and Tess (the gatherer) tried out on their lifestyle property in the Papamoa Hills near Tauranga.
Marco says the Forksta weighs about 3.7 kg and has a t-shaped handle which enables the gardener to use their body weight to work the fork into the soil.
Tess says the tool is designed for aerating the soil and creating better drainage. Its use also supports essential soil ecology and helps avoid bringing weed seeds to the surface.
"We don't turn the soil over as this disturbs the soil ecology which is so vital to healthy soils and plants," she says.
Tess and Marco invited the public to stand on the raised garden and try the Forksta for themselves. Those who did quickly found its design made it easy to use.
"As well as being great for gardening, it is also useful for aerating compost and even for lifting and transplanting trees," says Marco who manufactures the forks from high strength steel.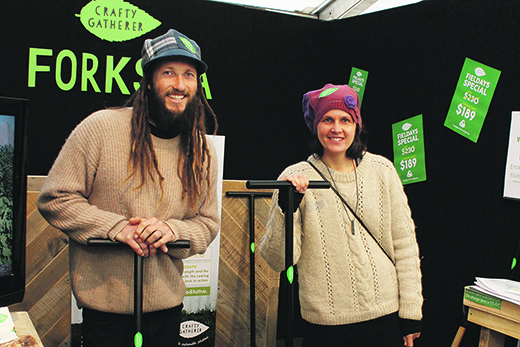 Marco and Tess Partridge of 'Crafty Gatherer' with their innovative design, the Forksta, on display in the Innovations Centre at Fieldays.
Crafty Gatherer is described as an artisanal craft company which creates products for home and garden, all of which are 100 per cent New Zealand made.
"Through our products and the way we live we hope to empower and motivate others to see that living off the land and with nature is an enjoyable choice. Our big focus is to respect nature, reduce the resources we use and re-use materials where possible.
"After seeing a lot of the waste in this world, we wanted to be part of the solution, not adding to the problem. We look for simple solutions that lead to a more self-sufficient way of being. We aim to work on the land to improve the soil, water, natural habitats and wildlife, while also gathering a yield and making a living," the couple say.