Taking part in an Agriculture New Zealand Go Organic course has proved life-changing for at least two of its students.

Geoff Leong of Te Puke and Jo van Kooten of Cambridge are each pursuing new career paths after being inspired by taking the courses.

Go Organic students attends a class field trip to the native plant nursery at Waihi College.

Geoff, who has been involved in retail nearly all his working life, was challenged by his wife to join the Go Organic course to find out if growing things was what he wanted to do.

Turns out it was.

"I was probably the most inexperienced member of the group but not long after beginning the course we started looking for an organic property to buy," says Geoff.

Today the couple own a 7.6 hectare mixed orchard growing avocados, walnuts, macadamia nuts and a large home garden – and they're loving the lifestyle change.

Jo, who is a chef, joined the Go Organic course to pursue her other interest – growing food.

While still studying, she approached the owners of Locavore near Cambridge, a company which grows and promotes buying local produce, with a request to work one day a week for free to learn more.

"That led to a part-time job, which I just love," says Jo. "I didn't know much about organics when I joined the course, which went above and beyond my expectations in what it taught."

Jo says she found the course challenging but the way in which it is taught, and the support of tutors and fellow students, meant it wasn't beyond her ability.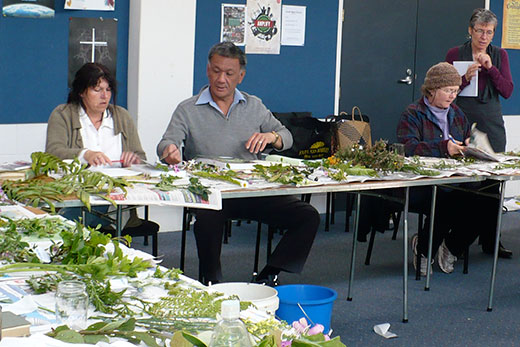 Geoff Leong and other Go Organic students learn to recognise weeds and herbs in a plant identification class.

Go Organic programme coordinator and tutor Micky Cunningham says people from all walks of life and experiences attend the part-time courses, held in several locations throughout New Zealand.

Courses in the Waikato/Bay of Plenty region are scheduled to start in August in Hamilton, Pukekohe, Waihi, Raglan and Rotorua.

Go Organic courses take a practical, science-based approach to separate myth from fact, while exploring a wide range of organic techniques and methods.

Students are introduced to a variety of design and management systems providing useful guidelines and tools for ongoing planning, management and diagnosis – whether applied to an existing property or a new production venture.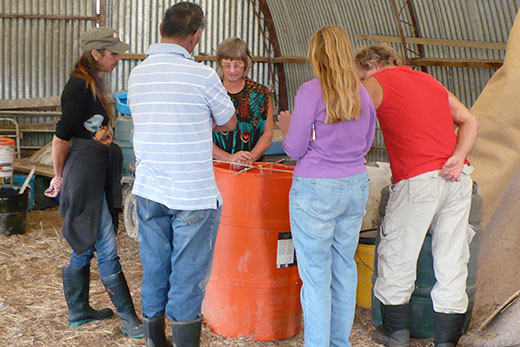 Go Organic students observe how Janette Perrett prepares liquid fertilisers for her pastures.

The course is great value for keen gardeners, plant growers, landscapers, lifestyle block owners, permaculture planners, habitat-restoration workers, orchardists wishing to convert to organic systems, as well as those seeking a healthier alternative to conventional food production.

Each course typically runs during 10 months with students attending weekly tutorials, workshops or fieldtrips either during school hours or evenings and weekends.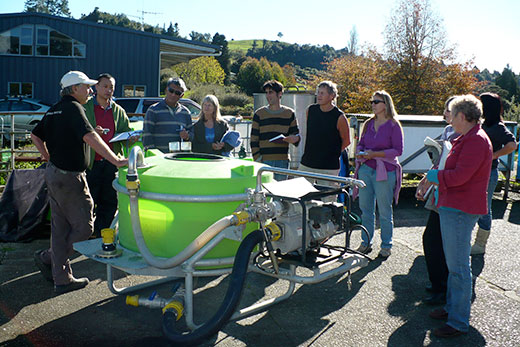 Steve Erikson, of Chaos Springs Waihi, explains to a Go Organics class how compost teas are made.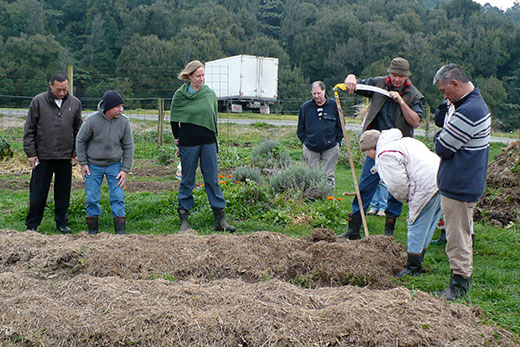 Geoff Leong (far right) learns about preparing soil for garlic, on a field trip to Gordon and Sue Boyd in Waihi.