Tayla Hansen's 11 years' experience of showing animals contributed to her winning the Royal Easter Show's supreme Speckle Park bull trophy with a nine-month-old bull in April.
So too did her understanding of what constitutes a good example of the breed – something she can converse about at length and with authority. Pretty impressive for a 13-year-old.
"I took my first animal, a pet lamb, into a local show when I was two and have been showing animals at calf club and A&P Shows ever since," says Tayla, a Year nine student at Hamilton Girls' College.
Tayla lives with her mum Brenda, dad Andrew and siblings Cooper (11), Alexis (8) and Mitchell (6), on a small lifestyle block near Taupiri where her Speckle Park bull 'Master of Mayhem' (also known as M&M) has been raised.
Tayla bought M&M from Jan and John Bellamy of Below Sea Level Speckle Park stud at Ruawai in Northland when he was just a calf and hand-reared him.
"He cost quite a lot of money, but I was very lucky that I was offered the chance to buy him," says Tayla who paid for the bull from money earned rearing calves.
Tayla Hansen and her Speckle Park Bull M&M have a special bond.
Handling skills

"M&M had no leading experience but by the second day he was leading and shortly after that would follow me. He's got a lovely nature and is very quiet."
At nine months, M&M weighs around 500kg and will reach close to one tonne when fully grown. In contrast, Tayla weighs just 34kg. It's not size, but technique and animal handling skills which make her so successful in the show ring.
"Tayla has a natural ability with animals. She and M&M have a special bond – he'd do just about anything for her," says Brenda. "Even from an early age she has been able to work with almost any animal to get it to do what she wants. The calf called Glitter that Tayla raised nine years ago is part of the dairy herd belonging to David and Carmel McKie next door and she still comes for a pat when the cows are in a paddock close to our house."
As well as M&M, Tayla has two Speckle Park cross heifers which she is breeding from – but producing pure-bred calves is going to take time. "What I really want is a pure-bred Speckle Park heifer so I can continue to complete in the pure-bred competitions."
To this end she's resigned to eventually selling M&M to raise the money needed for a heifer. "I hope the new owners might let me take my heifer to M&M for a service so I can get a pure-bred calf."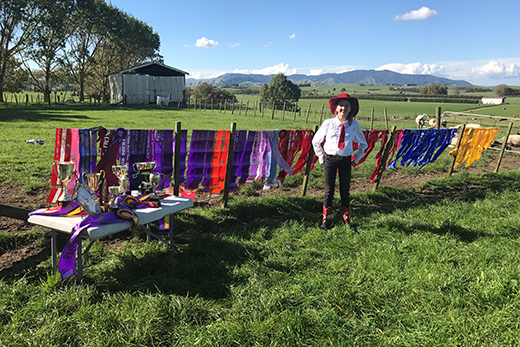 Tayla Hansen needs a fenceline to display the show ribbons she has won.
Good to eat

The Speckle Park breed is relatively new to New Zealand but it has qualities which appeal to Tayla. "I like the way they look with their spotted coat, but I also like their muscle traits and the fact that they are such efficient converters of grass to meat and grow fast.
"I also like the way their meat tastes," says Tayla – demonstrating that as much as she loves her animals, she has no illusions about why they are bred.
"The calves are not too big so bulls are suitable to put across dairy cows." Tayla believes producing Speckle Park crosses which would be grown on for meat could help reduce the number of bobby calves going to slaughter – something she finds upsetting.
As they are not as big as some cattle, the breed is ideal for smaller farms or on country where heavier animals may be too hard on pasture or hillsides, she says. "Speckle Park also have a gentle nature and are easy to handle."
Tayla may have begun her show career in calf club rings but now she also mixes it with adults in A&P Shows throughout the North Island, something she doesn't find daunting. "Other breeders are generally very helpful, giving me advice and taking an interest in my animal and what I'm doing. They don't talk down to me."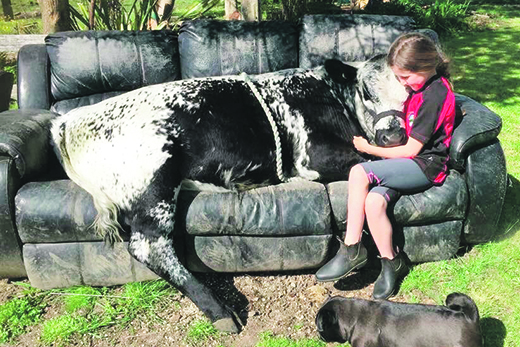 Snuggle time – Tayla Hansen with M&M on a couch only just big enough for two.
Box-load of ribbons

Together Tayla and M&M have won a box-load of ribbons and trophies. "He is very quiet in the ring, sometimes almost too quiet as he can move quite slowly. I have to convince him to hold his head just right." Tayla also knows how to gently persuade M&M to stand correctly to show off his physique.
In May Tayla took part in Beef + Lamb's event for young people keen to be part of the beef industry called 'Hoof & Hook', showing a two-year-old, 748kg Simmental steer which she encountered for the first time at the event. "It was a good weekend which included quite a lot of theory as well as show ring work."
Tayla's aspirations for the future are to breed more Speckle Park animals, and pursue a career in beef genetics. As far as the practical side goes, she's already off to an excellent start.