Turning pests into tasty nutritious food for pets is proving a winning formula for Sue and Mark Armstrong and Zac Howarth of Out of the Wild Pet Food.
"The environment wins because we are reducing the number of pest animals. Pets win because they are getting nutritious, raw meat – and we and our hunters are winning because the business gives us an income," says Sue.
However, while it may seem simply obvious to use possum, rabbits, hares, deer, wallaby and goats culled from the wild to create pet food – gaining licence to do so has been anything but easy.
"We have had to fill in endless application forms, undertake training and then gain certification for Ministry for Primary Industries for our small processing facility," says Sue.
"When MPI came to inspect the facility they were impressed, saying it is up to the standard of a butchery for human food," says Mark.
The couple have no argument with the strict processes because they know they are designed to ensure the foods they produce for dogs and cats are safe for them to eat.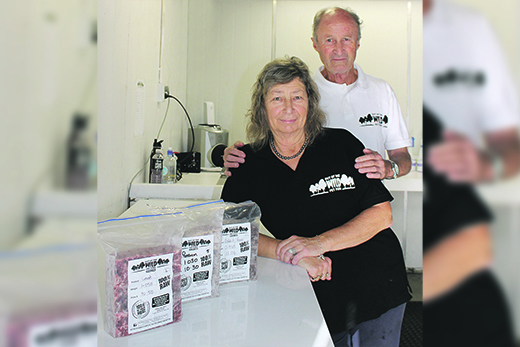 Sue and Mark Armstrong produce raw meat from wild animals for pets
GPS location
"Every animal we kill ourselves, or is brought into us by our registered hunters, has the GPS position of where it was killed recorded, and a current certificate from the landowner to stating no poisons have been used in that area."
Sue and Mark didn't set out to be pet food producers. Mark has been a farmer most of his life and Sue, who admits to wanting to be a butcher in her teens, was caregiver to the elderly.
Sue's son Zach Haworth was working in pest control, a job he loved, but because he had to keep re-applying for blocks in which to hunt he had no long-term income security.
"We decided this was something we could do as a family so we started up Pest Pro NZ Ltd, contracting to control pests on private and government land."
The company has contracts throughout the Bay of Plenty, and into parts of the Coromandel and Waikato. Both trapping and poison are used in these operations but no pet food meat is taken from blocks where poison is laid.
Sue says most people are totally unaware of how bad the pest problem is in New Zealand. "People just don't get to see the significant number of rabbits, hares, wallaby, possums, goats and deer out in the wild, but we do."
Good health

That's why Sue and Mark have no problem finding enough wild meat for their pet food business. What they don't hunt themselves, comes from hunters of all ages, both male and female, who are trapping and shooting pests, freezing the animals and delivering them to the Ongare Point facility on a regular basis.
There each animal undergoes a thorough inspection to ensure it was in good health. "Some people worry about tuberculosis but we know what to look for in a carcass and have never seen a sign of TB. "The areas we are taking animals from are TB-free areas," says Sue.
Possum carcasses are thoroughly minced, bones and all shaped into meal-size blocks and frozen. Meat from larger animals is boned out and minced, and Sue and Mark also blend some of the different meats together. However, nothing else is added, no preservative or fillers, just wild meat.
"Cats and dogs, like humans, can be a bit particular about what they eat. Some cats will eat only possum, others love a bit of everything."
Sue says the biggest pleasure she gets out of the business is the significant difference the raw food is making to the health and temperament of many animals. "One client has a dog, fed mainly dry foods, who was hard to handle and always bad tempered. Since feeding him on raw meat she says he's like a different animal, so happy and content."
Cat owners also report healthier happier pets with sleeker fur. "They are not always demanding to be fed because they are satisfied eating the kind of food cats were designed to eat."