Depression didn't immobilise Hamish Lile.

Instead it turned him into a "workaholic", holding down two full-time jobs, running the farm by day, driving trucks by night.

John Kirwan (right) with Hamish and Lisa Lile and their daughters, Dana (left) and Hayley.

Some may have been impressed at his work ethic and determination to "get ahead" but Hamish's wife Lisa knew something was seriously wrong.

"Depression takes many different forms. People think it's about someone sitting in a corner and crying all the time, but it's often not like that at all," says Lisa, who finally convinced Hamish he had a problem and needed help.

"Help was really hard to find and it shouldn't be that hard," says Lisa.

To make help easier to access for others in similar situations the farming couple from Te Awamutu has taken the brave step of going public about Hamish's battle with depression.

They have become part of the rural depression programme managed by the Health Promotion Agency and fronted by John Kirwan.

The programme includes John interviewing Hamish and other farmers in videos that can be viewed on depression.org.nz/rural

"If your life is not 'sweet as' it might be time to get some help and get life back on track," says Hamish.

Robbed
Eighteen months ago his life was anything but sweet.

"I used to enjoy playing sport, being involved with activities which meant being around people like young farmers and other farming groups, working on the land, milking cows and spending time with friends and family," says Hamish.

Depression robbed him of all that.

"It took everything I enjoyed in life away and more. I lost the desire to play sport, get involved with other groups; and I started to distance myself away from friends and family, including my best friend, my wife, and my two daughters Dana and Hayley.

"It took away the happy me and replaced it with the sad, angry, unmotivated model."

Hamish felt he was a failure and unloved by family and that he had to prove himself.

"The only way I could see out was working harder, to prove to people I can do it. I can look back now and see it was the wrong thing to do."

For Hamish there was no light at the end of the tunnel, only darkness.

"I am lucky to have Lisa, who was always there to turn that light on and help guide me there and support me along the way."

Lisa needed help too but says in some cases the wider farming community wasn't as supportive as she'd expected.

"We hear about rural communities and farmers supporting each other, but that's not always what I found. I think it is probably because some people are also suffering from depression but don't want to admit it."

Lisa did find strong support from two girlfriends; one who is a farmer, and one who isn't.
A neighbouring farmer also took to calling in unannounced, just to check things were okay.
"They were amazing and I am so, so grateful to them," says Lisa.
She also found some help from Federated Farmers and great help from the 0800 depression helpline (0800 111 757) and was finally able to convince Hamish to see his doctor.
Medication wasn't the answer for Hamish. "The pills I was taking made me feel physically ill and gradually I weaned off them."
Ford Fairmont
What helped most was talking about how he was feeling, cutting back on work hours, taking vitamin and mineral supplements, cutting back on alcohol, eating well, spending time with family and friends and on interests outside farming.
That included buying a bright orange, classic 1977 Ford Fairmont.
"We have friends who are also into classic cars and have been to Beach Hop, which was a blast, and other times just go for a drive, playing 1970s music and enjoying the ride," says Lisa.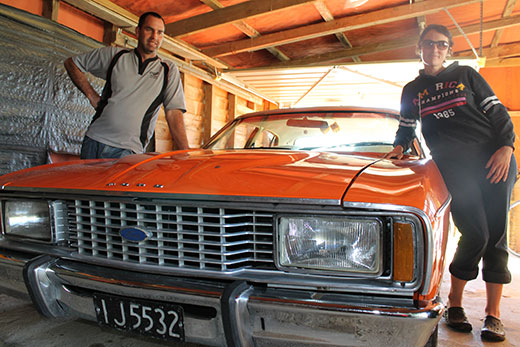 Hamish has a talent for making clocks from old rimu fence posts and is learning to fly a remote control helicopter. He also still enjoys long distance driving.
Getting enough sleep can be an issue. "I still find myself waking early in the morning and having trouble getting back to sleep – I try not to watch the clock."
Lisa joined the gym and got more involved in their daughters' sports. Even walking the dog is a break from the pressures of farming.
Positive
Lisa and Hamish were a little apprehensive about what sort of reaction they would get from the tight-knit Te Awamutu community when they went public about depression, but so far it's been overwhelmingly positive.
"When we agreed to be part of the programme both Lisa and I said if we could save just one life by doing so, it would be worth it," says Hamish.
"I think from the phone calls we've had and conversations with people who have closely identified with what I went through and recognised they too have a problem,
we've probably already done that."
Lisa says she's often approached at netball, or when she's out and about, by wives and partners who want to talk to her about how to get help for their menfolk.
In the first three months of the website going live, there were 18,800 views, which Hamish and Lisa also believe demonstrates the need for information and help. Their advice to anyone feeling overwhelmed by life is to visit the website, listen to the stories from farmers of all ages, to seek help – and most of all talk about how they feel.
"Talking to my best friend Lisa is what helped me get through," says Hamish.
To find out more go to: depression.org.nz/rural or for help call 0800 depression helpline (0800 111 757).