This coronation jug from the Te Aroha Museum is a rare item – and many readers will know exactly why – send in your memories of this time in history and be in to win a visit to the museum.
The "good old days" of manual labour on the farm weren't so great, according to Alan Simpson, whose memories of those times were sparked by last month's 'History Item'.
Alan from England, who is visiting his brothers in New Zealand, one of them in Matamata, spotted the photograph of the implement in the March issue of 'Coast & Country News'.
"I guess I must have been about three when I first saw it being used at the bottom of the farm cutting up a hay stack of loose hay. Dad swept up the hay from the swath – sometimes made by a hay rake – he had a sweep in front of a Standard Fordson tractor," Alan writes.
"Shortly after I seem to remember him getting the contractor's stationary baler to do the job – he normally did the threshing of the corn sheaves – to make it into bales – about the size of a big bale now – before stacking. This went onwards in time to an International B45 baler and the rest is history as they say.
"Further use of this item involved cutting silage from a pit. This involved such unbelievably hard work cutting and carting that after a few years we went back to hay, which in hindsight was a real shame because silage was the future – even then we could see it. There was a lot of waste hay because of the rain etc. How I wished there had been round balers then.
"Its last use for us was by one of my brothers who, before loaders and skid steer Bob Cats came in, used to slice up the layers of muck and straw bedding in horse loose boxes prior to using a 'gripe' and throwing it on the trailer. To those who say it was the good old days, you weren't there. Ha."
Judy McLaughlin remembers using a silage knife 37 years ago when she first moved to Rerewhakaaitu, which is 34km south of Rotorua.
"I still have one in the shed. It brings back memories – and I still have the calluses on my hands from using the knife.
"In those days we never had a feed-out wagon so also had to fork the silage off the trailer," writes Judy, who has won admission for two to the Western Bay Museum in Katikati.
This month's History item is from the Te Aroha Museum. If you have a story to tell about this item, or a similar one, we'd love to hear from you. To be in to win admission for two to the Te Aroha Museum, email your memories to: elaine@thesun.co.nz with 'History item' in the subject line, or post to 'History Item', Coast & Country, PO Box 240, Tauranga 3140. Entries must arrive no later than April 18.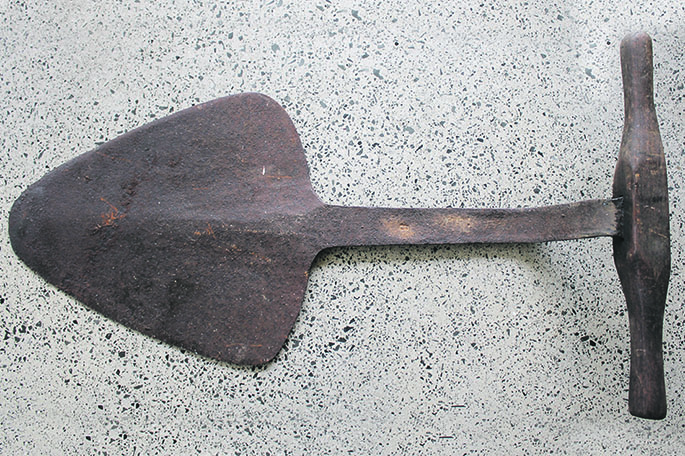 This old silage knife or hay spade from the Western Bay Museum was last month's history item.