These worm-resistant ewe hoggetts are the result of 30 years' intensive breeding.
Many farmers involved in the livestock industry are becoming increasingly concerned with what is known as "drench resistance".
This is where parasites, and particularly internal parasites – like worms – develop resistance to the chemical drenches that are designed to eliminate them, says Gordon Levetof Kikitangeo Romney Stud.
"This resistance phenomenon is also well-recognised in the medical world, where a whole range of diseases are no longer being controlled by even the most powerful of drugs."
In the 1950s at the beginning of the "chemical era", effective chemical drenches were being developed to control worms. Since then, it has been standard practice to use chemical drenches on a regular basis.
However these drenches never achieve a total kill, so the most resistant 1 or 0.1 per cent survive to mate with other surviving worms.
"In a relatively short period, about 10 years, the drench becomes ineffective as a new population of resistant worms has evolved."
During the years a succession of new drenches have been introduced, and on every occasion the worm parasites have become immune to the chemical poisons. In desperation, drug companies have combined chemicals to give double or triple combinations. However, again worms evolve to survive and render the drench virtually useless.
Troubling results

Gordon says the strategy to control worms during the last six decades has had two troubling results.
"First, even the most susceptible animals – be they male or female – will thrive with regular drenching and be retained for breeding purposes. This ensures the national flock is becoming increasingly more susceptible to worm challenges.
"Secondly, we have a breeding programme for breeding super worms, where 99 per cent of the weakest are eliminated. In combining these two factors, one would have to question the wisdom of continuing this practice.
"As with antibiotic resistance problems in the medical world, we should be looking at alternative solutions."
Gordon says there is one simple solution in the livestock industry – the genetic solution – that is not applicable in the medical world.
'By using the 'genetic variation' principle, animal breeders are able to achieve virtually any outcome. Just look at the dog population. Lap dogs, Great Danes, working and Greyhound racing dogs have all been bred from the one species of wild dog."
Natural ability

Parasitologists have known for 30 years it is possible to breed animals that have a natural ability to withstand worm challenges. In New Zealand, a national programme known as Worm FEC was established in 1990 to enable ram breeders to breed for worm resistance using scientifically approved protocols.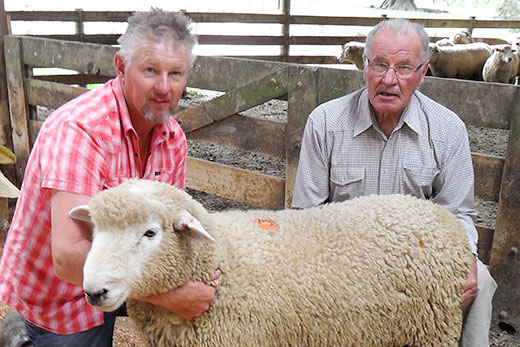 Sheep breeder Peter Moore recognises 30 years of breeding for worm resistance by Gordon Levet of Wellsford, who achieved a top price ram last year of $6000.
Gordon says it is estimated it would take 25 to 30 years to breed a flock that would have a high degree of resistance. About 30 ram breeders from many sheep breeds joined the Worm FEC programme.
"Unfortunately, many left after a few years because costs and labour involved did not result in increased ram sales.
"There was also a degree of negativity, and misinformation from some quarters. However, some breeders continued – accepting the prognosis advanced by parasitologists.
"Now, 30 years on, some breeders now have flocks that have a reasonable degree of worm resistance in their flocks.
"It needs to be understood that breeding for worm resistance is in fact breeding for an enhanced and pro-active immune system, which recognises a worm challenge and acts to control it."
Not recognised
"It is unfortunate the leaders of the sheep industry have not recognised the genetic potential of controlling worm challenges using an enhanced immune system.
"Instead, all the emphasis is on strategies to minimise the impact of drench resistance, and how to use drenches and other management tools to control worm problems.
"So as an industry, we seem to be quite happy to continue to travel along a dead end road of breeding ever more worm susceptible animals to be subject to super worms.
"Fortunately, there are some serious ram breeders dedicated to breeding more resistance into their flocks, and farmers using their genetics to reduce drenching and losses through deaths and loss of productivity.
"The sheep industry should be leading the charge to overcome the parasite problem by encouraging the proven genetic option. Instead it is individual ram breeders who are pursuing this course, encouraged by their enthusiastic clients," says Gordon.