Holly Galloway, 6, with navel oranges from her family's orchard delivered for packing at NZ Fruits in Gisborne.

The sweet smell and bright colours of oranges and lemons dominate NZ Fruits' packhouse in Gisborne during the citrus harvest season.
Thousands of oranges floating in a water bath or travelling along a conveyor, lemons on grading tables or cascading gently down to an automatic packaging machine and bins full of freshly-picked fruit create an almost festive atmosphere in the facility that handles about 50 per cent of the national citrus crop and 65 per cent of the national persimmon crop.
One of its shareholders and its largest customers is First Fresh, which is also one of New Zealand's largest citrus suppliers to the domestic market and exports Gisborne citrus to the world.
The quality of the produce supplied by its Gisborne growers has enabled the company to build export relationships in a wide range of countries. As a result, almost every day somewhere in the world, someone is enjoying a slice of Gisborne fruit.
When Coast & Country News visited the NZ Fruits post-harvest facility in early-November the company had just introduced a new track and trace system, which has done away with hand-written documents – instead its uses barcodes and electronic scanning systems.
Track and trace
Among those enthusiastic about the change is Justice Anderson, whose role is to document every pallet of fruit. "It's great and so much quicker than writing everything by hand," says Justice.
First Fresh technical manager Matthew Carter says the transition to the new system went well and it will be used across all the product groups the packhouse handles. These include citrus, kiwifruit and persimmons.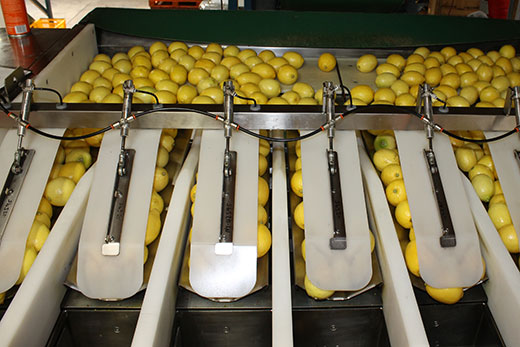 Lemons being automatically weighted and packed in bags for First fresh at the NZ Fruits packhouse.
Gisborne is the first region in New Zealand to begin kiwifruit harvesting each season and about 80 per cent of the region's supply is packed at NZ Fruits.
First Fresh markets green and gold kiwifruit not required by Zespri for the domestic market and ships Class II green kiwifruit to Australia.
First Gold
First Fresh has led the development of a new variety of gold kiwifruit marketed under the First Gold brand. It was bred by a well-known kiwifruit plant breeder Don Skelton and is characterised by its early maturity and colour, making it an ideal variety to grow in Gisborne.
First Gold has been marketed collaboratively with Zespri into a limited number of Asian markets, where it has rated well in consumer trials. Further development and expansion into other markets is planned as the volume increases. First Gold is also marketed in Australia and New Zealand.
Because of the diverse range of produce NZ Fruits packs, its packhouse and coolstores are kept busy year-round and are well-equipped to handle that diversity. The post-harvest facility has four, two and one-lane Compac grading lines, forced air pre-cooling and conventional coolstorage, dedicated citrus de-greening facilities and a large pre-packing facility for domestic supply.
Small to large growers
The company works with about 150 local horticulturalists, from small 'Ma and Pa' and lifestyle growers to large corporate and trust orchards.
"Most of the produce to be packed arrives by the truck load but some of our growers deliver just a bin or two. All the fruit receives the same attention no matter how much or how little," says Matthew.