Jaap and Sue van Dorsser has spent 40 years planting native trees along the banks of the Awahou Stream.
In 1994 Sue van Dorsser promised her husband Jaap that when she retired she would work with him on his ambitious native restoration project along the banks of the Awahou Stream until he turned 70.
That was more than 20 years ago. "This is not quite how I expected to spend my retirement, but we enjoy it and it keeps us fit," says Sue, a former physiotherapist who met her Dutch husband-to-be through the Rotorua Tramping and Skiing Club in the 1950s.
Currently, every Wednesday the couple, both now in their 80s, together with friends Jan Gifford and Peter Goodwin, enter the rapidly growing native forest to care for the thousands of trees planted there during the last 40 years.
The revegetation of the Awahou Stream, which flows along Jaap and Sue's lifestyle block near Ngongotaha and farms belonging to their neighbours, began well before the couple retired. And it is for his work on this and a raft of other projects that Jaap was awarded the Queen's Service Medal for service to the environment this year.
Jaap, who immigrated to New Zealand in 1953, went on to more than put down his own roots in this country. He's overseen and taken part in the planting and regeneration of thousands of native trees around Rotorua, and is well-respected nationally and internationally as an expert and teacher in forestry and planting methods.
Streams transformed
The citation for Jaap's medal says: "His work planting, clearing stream areas, and removing noxious weeds and rubbish has made a significant difference to the community and to the environment. He has led many projects, sharing his skills and enthusiasm to achieve the successful regeneration of huge areas of native bush around the region, transforming the Ngongotaha, Hamurana and Awahou streams, Lake Rerewhakaaitu, the Horohoro region, and many of the Te Arawa Iwi rivers".
"He works closely with regional and local councils and iwi as part of Progress Ngongotaha and the Awahou Stream Care group. Mr van Dorsser has donated thousands of native seedlings and built walkways and bridges to enhance plantings, and is an enthusiastic teacher, regularly taking sessions with schools and other community volunteers."
To walk through the forest they have helped create is like walking through a diary of much of their lives for the last several decades.
"These trees were planted in 1994," says Jaap, as we climb over a fence into an area of tall, well established trees. And later we walk through the year 2000, and on to progressively younger-but-still-impressively-tall trees to reach the area known as 2014.
"This is as far as we will go with the work, and over there is what it and most of this area was like before we started," says Jaap, pointing to a grove of tall and tangled barberry, with bare ground under its dark canopy.
Self-care
"These show the size of the barberry we cut out and poisoned," says Sue, indicating the large stumps cut off at ground level.
"This is a 500-year project but we hope to get it to the stage where it can take care of itself before we die," says Jaap.
While most of the plantings have been carried out since 1994, Sue and Jaap did plant some trees from 1965 to 1987 before leaving to work in Australia. "When we returned in 1994 the trees were almost completely smothered in blackberry," says Sue.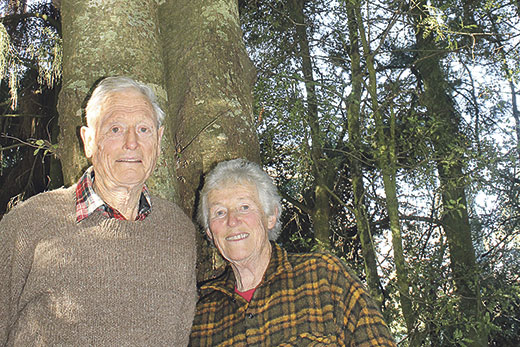 Lush forest now grows where animals once grazed thanks to the work of Jaap and Sue van Dorsser.
The task of cutting and removing the dense and prickly blackberry had to be done by hand. "Surprisingly most of the trees had survived under all that, though some of them weren't growing straight," says Jaap.
"Part of the Awahou Stream project has been the cleaning up of other people's rubbish dumps," writes Jaap, in his book called 'Putting Down Roots'.
"We came upon a major one in 2001 and the Bay of Plenty Regional Council supplied us with a mobile crane and digger – and with 12 friends we cleaned it up in a day." The gully where the dump was is now lush with native vegetation.
Removable bridge
All this work has been to restore the banks and water quality of the stream and Jaap would love to see the project extend from the main source in the Mamaku Ranges to Lake Rotorua.
"Not in my lifetime I don't think, but maybe others will pick up where we leave off."
The Awahou Stream doesn't always co-operate with the volunteers' hard work. It is prone to fast and very high floods, which threaten the stability of its banks. But Jaap has used his knowledge to plant species that will withstand the torrents.
In one place he's installed a removable bridge to cross the stream where a permanent one would not survive.
During the years many volunteers have helped with the project, but the most faithful have been Jan Gifford and her husband Ham, who died in 2013; and more recently Peter Goodwin and Tim Sharp.
Jaap's childhood, growing up in a forest at Mook, on the Dutch/German border, and his later career in the New Zealand Forest Service helped foster his love of trees and the environment. His commitment to the many projects he's been involved in runs deep.
"My philosophy has always been that the environment is more important than people – because people stuff things up.
Stuff ups

"The only way we can counter the stuff ups is to do something to reverse it. Without the environment, we've got nothing. If that falls away – where are we?
"You probably can't arrest the decline completely but you can make improvements in certain areas.
"The only way that individuals can react is to do something locally. By doing something locally you may influence people's thoughts and you may encourage change in attitudes world wide – who knows.
"If I have achieved anything along these lines through my efforts, then I am satisfied."