Twenty years on Diane Coleman of Treeline Native Nursery still loves her job.
Frost crunches underfoot and sparkles from the leaves of thousands of colourful young native plants on a bracingly beautiful Kaharoa morning – the kind of morning which nurserywoman Diane Coleman loves.
"This is exactly the conditions in which we choose to grow our plants," says Diane, who is the founder of 20-year-old Treeline Native Nursery in Stewart Rd, Kaharoa, near Lake Rotorua.
It might seem counterintuitive for a nursery business, but Diane deliberately chose the high altitude, exposed site, when she began the nursery in 1996 because she knew it would foster the hardy plants clients needed.
At 419m above sea level, Treeline Native Nursery is high altitude, with a cold climate ideal for the production of its open-grown, healthy, robust bushy plants which are well rooted and free of pests and diseases.
Getting started wasn't easy. Diane, who grew up in the Hawke's Bay and has a horticultural diploma from Lincoln University, had the knowledge, skills and work experience to begin her own business. However, money was tight so she raised calves to help fund the venture.
It was her love of growing plants, natives especially, and her wish to spend more time with her then five-year-old son Sam that spurred Diane to become self-employed.
Riparian plantings
She had also seen an opportunity in the market generated by Environment Bay of Plenty – now Bay of Plenty Regional Council – encouraging farmers to retire and replant riparian areas with native plants.
Husband John, a builder by trade, constructed the first three tunnel houses and Diane began sourcing seeds to grow 10,000 trees, shrubs and grasses each year.
She focuses now, as she did then, on seed gathering so that plants are grown from seeds true to each area – a practice called eco-sourcing.
"Sam and his younger brother Tom have grown up with the nursery, and frequent seed gathering trips – which they didn't always enjoy. Once it took us six hours to get to Gisborne because we kept stopping to gather seeds," says Diane.
Treeline Native Nursery is committed to its eco-sourcing protocol for specific revegetation projects. "Collecting seed from the relevant ecological region ensures the use of plant material best adapted to a particular area.
Eco-sourced seeds
"While our seed is eco-sourced predominantly from the Bay of Plenty and the Waikato region, we collect outside of these regions on request."
It can take six to 18 months from seed collection to produce a plant ready for sale.
"We suggest if clients are about to begin a large-scale planting project, that they contact us one year in advance and we can grow to their specifications.
"We provide a large selection of popular natives suitable for varied uses including the home garden, farm shelter belts, riparian zone, subdivision projects to specific ecological restoration requirements."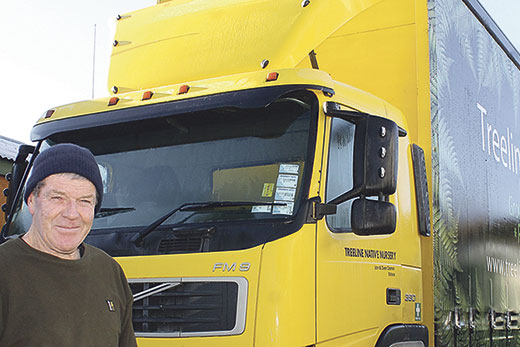 John Coleman delivered 220,000 trees to clients throughout the Bay of Plenty, Waikato and Gisborne regions with the Treeline Native Nursery truck.
Twenty years on from its somewhat modest beginnings, Treeline Native Nursery has grown to the point where last year John, in the company's distinctively signwritten and very large truck, delivered 220,000 trees to clients throughout the Bay of Plenty, Waikato and Gisborne regions.
A large new shadehouse has also been constructed, the outdoor area for plants extended significantly and a new automatic potting machine purchased.
Today the nursery has seven full-time and part-time staff, including John, who left his building career to join Diane full-time and drives the truck making deliveries to clients.
Tried and true

The nursery produces a wide range of native plants from grasses, to shrubs to all but the largest of the forest trees. Tree Lucerne is the only exotic the nursery grows, because it is in demand for its ability to establish quickly and provide food for native birds.
Diane describes herself as a traditional nurserywoman, who likes to carry out the process from seed germination, to pricking out, to final plant preparation using tried and true methods, but also admits to still learning what works best.
"We had a problem raising beech trees, until I read something about the plants needing specific mycorrhiza in the soil so we moved the young plants to under the beeches in the nursery – the success rate has been brilliant since then."
While she didn't go into business to win awards, Diane did just that in 2013 when she became the supreme winner of the national RWNZ Enterprising Rural Women of the Year.
Award winning
At the time RWNZ national president Liz Evans said Diane was chosen as the Supreme Winner out of a strong field of contenders, because she displayed "skill, calm confidence in the progress of her business and a clear awareness of her market".
"When demand for products slowed with the 2010 economic downturn, Diane adapted to conditions, made some innovative decisions and was able to maintain production levels. Added to this, the business is rural-based, employs several rural women and gives back to the community with fundraising support."
Two decades on Diane still loves what she does and the fact that Treeline Native Nursery is making a difference to this country's environment and ecology.
"I get a lot of satisfaction from seeing what councils, farmers and horticulturalists are doing in re-planting areas with natives, whether they are our plants of not. It's wonderful to see the growing interest and understanding of our native plants by landscapers and urban residents too."
The thousands of native trees, shrubs, flaxes and grasses grouped by species at Treeline Native Nursery clearly demonstrate there is nothing dull about New Zealand's natives. The plants, with their distinctly different forms and textures, create a wash of hues from blue-grey to sliver, chocolate brown to bronze to copper, to all shades of green.
Treeline Native Nursery is not a garden centre, and anyone wishing to visit is advised to make an appointment, so staff can allocate time to spend with them.