Growing an extra 1.4 tonne of pasture per hectare in six months, resulting in an additional $45,000 in earnings from 8000 more kilograms of milk solids is significant for any farm, and especially valuable in a low payout year.
The fact it's been achieved by industry newcomers, former journalist Brad Markham and political advisor Matthew Herbert, both with less than two years' dairy farming experience, is even more remarkable.
Matt Herbert and Brad Markham have swapped politics and journalism to become award-winning dairy farmers.
While journalism and politics might not appear to provide the ideal skillsets for a dairying career, in Brad and Matt's case they probably have. To be successful in their previous jobs took hard work, long hours, a focus on deadlines, and a willingness to question, research and learn – which is pretty much what the pair has done since ditching suits for overalls on a farm west of Huntly in June 2014.
Brad says they came into farming with an open mind. "We have set out to learn from the best, finding out what it is the top 10 per cent successful farmers do and trying to apply that to our farming business."
Matt grew up in suburbia in Australia, while Brad grew up at Pukekawa, then trained as a journalist and moved to New South Wales in 2006. He met Matt in 2008 and before moving to New Zealand they were living in Hobart Tasmania, where Matt was working as an advisor to Labor Minister Julie Collins and Brad reported on state politics in Tasmania for ABC News.
Seeking a complete change of focus and lifestyle, they made dramatic U-turns in their careers to go contract milking 260 cows for Brad's brother Lee Markham near Huntly.
Taranaki farm

They've enjoyed the experience so much they have stepped up to contract milk 380 cows through a 54-bail rotary for Andrew and Vanessa Dwyer in Taranaki this season and aim to have enough equity to secure a 300 cow 50/50 sharemilking position by the 2018/2019 season.
The couple's farming achievements and commitment to the dairying industry impressed judges in the 2016 Auckland/Hauraki Dairy Industry Awards so much so they won the Share Farmers of the Year title.
Not surprisingly, they also won the Ravensdown Pasture Performance Merit Award. "Brad and Matthew showed a very strong understanding of the pastures on their farm and how to get the most out of them".
"With a challenging farm, which floods frequently throughout the year, they demonstrated excellent pasture management skills; and a number of the contingency plans they have in place to maximise pasture performance under such challenging conditions," the judges say.
Being awarded the Federated Farmers of NZ Leadership Merit Award was a pleasant surprise because it's one Matt and Brad didn't expect to win, but they did so thanks to skills learned in their previous lives.
"Brad and Matthew have been in the industry for only two seasons and in that time have made a positive impact on the industry. When the industry came under scrutiny regarding bobby calf welfare, Brad and Matthew took to social media to spread positive messages about the industry and the treatment of stock. They also volunteered their own time to help the neighbouring farm out when they needed it," the judges say.
Social media
"When the dairy industry was getting hammered after TVNZ's programme on the treatment of bobby calves, we posted videos of our happy calves getting scratches and pats in the paddock," says Matt.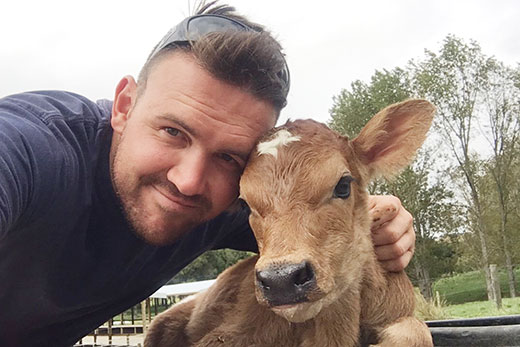 Matt Herbert uses social media to show well cared for calves and young livestock on the Pukekawa farm where he was a contract milker.
The pair have a combined total of 4200 followers on Twitter and consistently use social media to connect with other farmers and share knowledge. "It's like an online discussion group," says Brad.
Accurate recording and treating cows as individuals regarding their health status, plus strict in-shed hygiene, have resulted in a 38 per cent reduction in Somatic Cell Counts in two seasons.
The 92ha effective, flat, gently rolling and steep farm is fenced into 39 paddocks and the Friesian/Friesian-cross/Ayrshire cows are milked through a 27-aside herringbone with in-shed feeding.
The near-new covered feed pad proved a bonus for Matt and Brad's farming operation, providing the opportunity to give the cows supplements, without the waste which occurs when its fed in the paddocks.
While officially classed as a System 5 farm, Matt and Brad lowered the amount of brought-in feed, with much made on-farm or the run-off, making it more of a System 4 farm and saving money.
Achieving extra grass production came via a formal pasture monitoring programme with regular farm walks and "pasture first thinking" as a key principal. The aim was for a residual of 1500. Temporary fencing was used where there was too much grass in a paddock.
Matt and Brad's new job in the Taranaki and their commitment to gaining further formal farming qualifications sees them well on the way to achieving their vision: "To operate a financially and environmentally sustainable dairying business, which is in the top 10 per cent of dairy farms in our region".