A series of net-covered ponds in a wetland on the fringes of Raglan Harbour hold solutions to some of New Zealand's most pressing environmental issues – the degrading of water quality, diminishing wild fish stocks and what to do with dairy effluent.
The late Charles Mitchell grew eels to market size in just five years in his Te Uku fish ponds.
Developed by the late Charles Mitchell, the ponds are a working laboratory now in desperate need of someone with the skills and vision to carry on what Charles began.
Charles died in September 2015 after 18 years' work on the property near Te Uku owned by him and wife Jan. Using his own money, Charles, a former fisheries biologist with the then Ministry of Agriculture and Forestry, became the first person in the world to breed whitebait in capacity. He also grew eels to market size in five years.
His work to use cow effluent to grow food for captive and wild fish stocks has now been taken up by other agencies, including NIWA, the Bay of Plenty Regional Council and Bay of Plenty Polytechnic in a trial on a dairy farm near Katikati.
Now Jan, together with Charlie Young, a friend and colleague of Charles Mitchell, are working with others to secure funding to ensure his pioneering work, operated under the brand name NitroEELS, continues.
Charlie Young says his friend was "the godfather of whitebait and a truly wonderful mad scientist".
Hubcap water wheels
"What he achieved is remarkable, and much of his inventiveness was driven by lack of money," says Charlie.
Frustrated at limitations on funding and blue skies research imposed on government scientists, Charles took redundancy from his job with MAF and used his own resources to convert what had been drained swampland back from pasture to wetlands, digging ponds for aquatic experiments.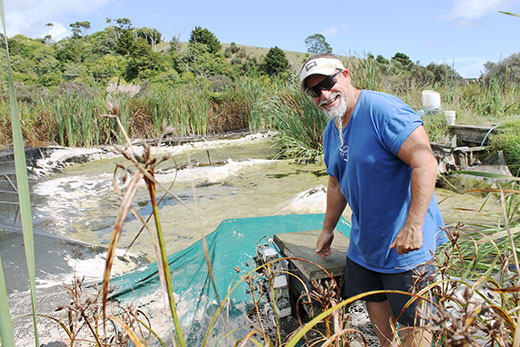 Charlie Young of NitroEELS believes eel farming may sustainably co-exist with dairying in future, with cow effluent growing food for eels.
Old fishing nets kept the birds out of the six fish ponds – but how to ensure the growing aquatic life received a regular supply of food was an issue. Charles came up with a suitably ingenious solution.
"He asked all his mates to pick up hubcaps off the side of the road – seven spoked ones were the best."
To the hubcaps Charles fitted holders for cups made from cut-down soft drink bottles, turning the hubcaps into water wheels. These wheels operate slow-moving 'conveyor belts' on which fish food is spread, allowing it to fall at a steady pace into the ponds.
"Charles said blowflies only laid their eggs once, and if you could get them to lay them where you wanted, they'd leave stock alone." So he collected road-kill possums and put them in old plastic drums, mounted on the side of the ponds where flies would be attracted. The drums are angled and fitted with a metal shoot so the maggots which emerge from the fly eggs slide off the carcass and into the water – feeding the fish below.
Insect attractant

Solar-powered LED lights set up in the ponds attract insects, including black beetles and crickets, many of which also fall into the water providing yet more protein for fish and reducing the numbers of unwanted farm pests.
Charles also built complex control gates which raise and lower the level of the ponds, enabling him to artificially re-create 'spring tides', encouraging whitebait to spawn when he wanted them to.
"The fish food Charles initially fed the whitebait had a specific marker which could be traced by examining the ear bones of whitebait under a microscope, so he was able to prove the whitebait local fishermen were catching had come originally from his farm," says Charlie.
However, imported fish food is expensive so Charles looked for an alternative. He successfully grew alae and zooplankton on dairy shed effluent, creating fish food; and at the same time improving water quality by reducing its nitrogen content.
Charles also worked with the Mahurangi Technical Institute at Warkworth which is also trialing commercial breeding of whitebait.
Whitebait records

Charlie says Charles enjoyed working with local whitebait fishermen, particularly those who had been whitebaiting for decades. "He found among some of the old-timers, people who were amateur scientists who kept detailed records going back years of weather, tides and their catches. This information was invaluable to his research."
His ability to raise eels to commercial size in three to five years – something which takes around 35 years in the wild – attracted the attention of the NZ Eel Processing Company and demonstrated eel farming could become a real commercial possibility.
Charles Mitchell's vision for how eel and dairy farming could co-exist and benefit both farmers and the environment, is outlined on the Nitro EELS website.
Nitro EELS
"Few have investigated techniques for recovering and utilising the nutrients inevitably lost into waterways. But if ecological restoration targets for our diminished and degraded lowland NZ waterways are to be realised, collection and management of nutrient-rich farm drainage so that it supports healthy, productive and valuable fish life before it leaves the farm will have to become a goal. This is one outcome of installing our Nitro EELS System.
"The Raglan EELS 'Nitro EELS' system is the only commercial product in development for a solution-based wetland nitrogen management plan that contains a direct return on investment of approx three to five per cent per annum.
"The primary goal of the 'Nitro EELS' original proof-of-concept water management system has been to develop sustainable fisheries while achieving significant nitrogen and e-coli mitigation for farming and urban activities.
"This goal has been realised by harvesting valuable juvenile fish [whitebait, eels and mullet] attracted to the system's zoo-plankton-rich discharges and then growing them to adulthood under low-intensity aquaculture conditions. Behavioural manipulation and trapping is used to harvest the adult fish in peak eating condition. The system is adaptable for New Zealand's various catchments and farming waterways."
It was Charles' aim that his research would be put to practical use on farms and in urban settlement, both coastal and inland, to reduce pollution, improve water quality and enhance fish stocks.
His vision to work hand-in-hand with nature, providing environmentally and financially sustainable solutions to some of this country's most urgent problems, must now pass to other hands. His legacy is too precious and vital not to endure.
To find out more, visit: www.raglaneels.com or call NitroEELS on 07 825 7873.