Keeping the nation safe from infectious diseases and "dangerous" individuals had – for more than 100 years – been the role of a small island in Wellington's harbour.

There was even a time in the 1870s when those landing on Matiu Somes Island had to sit in a smoke house, filled with chlorine, potassium nitrate and sulphur fumes to rid them of lice.

The maximum security animal quarantine station built on the island in 1971 was the most sophisticated facility of its kind in the world.

Today's biosecurity process is a little kinder. In a special building, visitors are required to clean their shoes of any dirt or seeds, check their bags for seeds, insects, rats or mice, and walk across a disinfected mat before "escaping" to the island's nature reserve.

Because where once the goal was to keep anything unwanted on Matiu Somes Island away from the rest of the country – today it is the aim of the Department of Conservation, which administers it, to keep unwanted pests, plants and insects off the island.

Ferries from Wellington's Queen's Wharf run a regular service to and from the island for day-trippers, or those who wish to stay overnight, and the island provides an appealing escape from the city's hustle and bustle.

At just under 25ha, it's not very big and it is easy to walk the tracks in half a day, but there's much more to the island than tramping.

It is a wildlife sanctuary, with native vegetation planted largely by volunteers, now well established providing a habitat for red-crowned parakeet (kakariki) and North Island robin, (toutouwai), fantail, Kingfisher, silvereye and a variety of sea birds.

It's also a critical habitat for the world's smallest penguin – the little blue penguin (korora) – which nest on the island.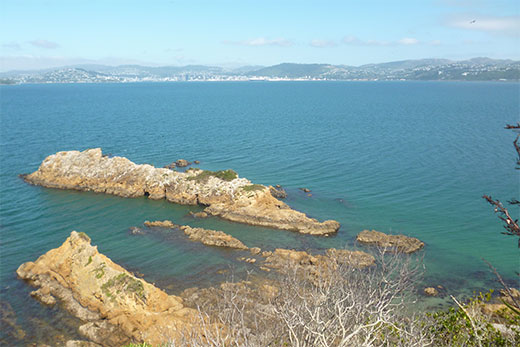 The island provides an appealing escape from Wellington City's hustle and bustle.

Weta motel
There are 500 species of invertebrates on Matiu Somes and neighbouring Mokopuna island, including several species of weta and their "motels" give visitors the chance to see these insect giants up close.

Eight species of reptiles, found only in New Zealand, also call the island home – many of them sunning themselves besides the tracks. They include the common, copper, ornate and spotted skinks, the common, forest and Wellington green geckoes and Brothers Island tuatara.

The island's known history goes back to the Polynesian explorer Kupe 1000 years ago who called it Matiu, probably after his daughter who he is said to have left there for a while. Early European settlers named it for deputy governor of the New Zealand Company, Joseph Somes. In 1997, in recognition of its bicultural heritage, the Geographic Board assigned the island its current name of Matiu Somes Island.

In the 1870s immigrants to New Zealand were cleared through Somes island, where they were checked for disease such as typhoid or smallpox. Those suspected of being ill where kept on the island, and many, including children and babies, died there. Their names on a memorial make sad reading.

Livestock quarantine
Just as today New Zealand tries to keep out unwanted pests and disease, so too did governments of the past, using Somes island to isolate imported livestock. In 1853 the
island quarantined sheep and permanent facilities were established in 1893. By 1908 it was considered to be the country's principal quarantine station.

That role was to continue for nearly 90 years, and in 1971 the new maximum security animal quarantine station built on the island was the most sophisticated facility of its kind in the world.

The complex closed in 1995 but the buildings, including livestock pens, a laboratory and large furnaces, remain and are open to visitors.

The idea of building the maximum security animal station was to enable scientists and geneticists to study new exotic breeds from outside what were considered the 'safe' countries of Britain, Australia and Canada from where animals were mainly imported.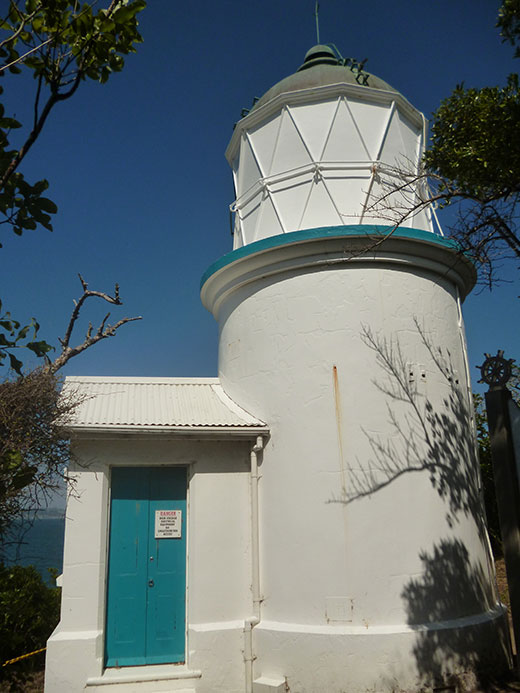 There has been a lighthouse on Matiu Somes Island since 1866.

Exotic animals
Thanks to the Somes island facility exotic livestock including elk, red deer, alpaca and llama could be brought into New Zealand, along with the more traditional sheep and cattle.

By the mid-1980s advancements in technology meant ova, embryos and semen could be imported for implantation into New Zealand livestock, so bringing in live animals was no longer required, and the station was closed.

However, during its time the facility did contribute to the diversity and productivity of New Zealand's livestock farming, while keeping the country free of many of the diseases imported animals may have brought in.

It was protection of another kind which Somes island afforded during both world wars when it served as detention centre for "enemy aliens". During World War I, between 1914 and 1918, about 300 prisoners where held on the island. Most were German nationals but some were born in New Zealand.
In World War II, from 1939 to 1945, the island was again used as an internment camp, housing Germans, Italian and Japanese prisoners.

Many were nationalised New Zealander but considered a risk to national security.
When Japan bombed Pearl Harbour and then Darwin, Australia, the threat to New Zealand from a Japanese invasion became all too real.

So it was in 1942 that prisoners were removed from the island and four 3.7-inch heavy anti-aircraft guns were mounted on its small summit to combat high-flying enemy aircraft.

The guns could project a shell to 10,000 feet in 14 seconds. The position was manned from January 1943 to September 1944 but was never called into action.

The five concrete structures, a command post and four gun positions remain much as they were when decommissioned after the war.

In yet another "safety" role, Matiu Somes Island is also the site of a working lighthouse.

The first lighthouse entered service on February 17, 1866, burning colza (rapeseed) oil and shining a white light down the centre of the channel and a red or green light at either side.

By 1895, there were calls for a stronger light that could be seen further out to sea, and a new lighthouse was built and began operation on February 21, 1900.

Its light was visible for 16 miles into the Cook Strait, fuelled by paraffin oil which wasn't particularly fuel-efficient and over the years was replaced by an incandescent burner which vaporised oil under pressure, then acetone acetylene gas.

After World War II it was converted to electricity, provided by a generator.