The Waihi Beach Dirt Track enjoys some of the most spectacular views of a race track anywhere, not that those who use it are there for the scenery. It's the thrill of racing cars on dirt which is the focus for drivers and spectators.

Waihi Beach Dirt Track attracts all classes of racers.

The track sits high on a hillside overlooking Waihi Beach, and has recently been extended to give drivers even more room to race.

It grew from humble beginnings, and today boasts club rooms, a licensed bar, and public toilets. Compressed air and water lines are installed in the pits, which are also equipped with fire extinguishers and first aid kits.

The club's next meeting is on Sunday December 13 and club vice-president Rick Purcell says everyone is welcome to go along to enjoy the action. The track is off Waihi Beach Road, admission costs $4 per person, and racing starts at 10.30.

Hire car
"We have a car which can be hired for a drive by anyone who wants to find out if dirt track racing is for them," says Rick.

"Some of our competitors' cars have a passengers' seat and at times they will take people for a ride around the track for an extra thrill."

The club began informally in 1996 when three locals, Dennis Boyd, Terry Dalton, and Travis Kingsford formed a rough track from scalping from the adjacent Waihi Beach Quarry, operated at the time by Cedric Mathers. The trio did a 'few' laps in their cars, and had such a good time friends were invited to join them.

Permission and much help was given by the Brown family, who owned the land, and those early drivers went out to get sponsorship from such businesses as Waihi Earthmovers, The Commercial Hotel, Chris Mullin Contracting, Edwards Transport, Kelly Dean Contracting, Porter Engineering, Waihi Mitre 10, Goldfields Auto Electrical, Carters Contractors, and Waihi Tyre.

"If it wasn't for all these businesses, plus much help from many others, the track would not have had the chance to grow to what it is today," says Rick.

Eventually the Waihi Beach Dirt Track Club (Inc) was formed. Club rules and race rules were introduced, and a points system was adopted to which trophies are awarded at the end of each season.

The Waihi Beach Dirt Track Club describes itself as 'a group of likeminded people who just love to race on dirt. We believe in racing with a sense of fair play and sportsmanship; winning not being the most important thing (most of the time). We have a strong social aspect and have classes to suit beginners and less experienced drivers, right through to all out - anything goes'.

Rick says the club is keen to attract new members and the hire car has been a very effective way of introducing people to the sport. "We hired it to a family last Christmas and now they have three race cars.

"It's a sport which can be as cheap, or as expensive as you want. Among our competitors are a lady in her 60s who drives an Escort and a young lady of 16 who drives a BMW.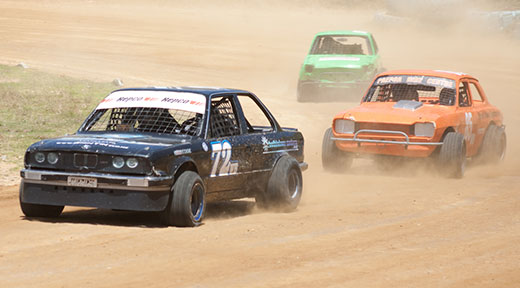 Roll cage
"Almost any car, so long as it has a roll cage and no glass, can be raced on the circuit," says Rick, who has been a member of the club for six year.

He began with a Mark 1 Escort with a Commodore V6 motor and had a lot of fun. Now he races an alerted saloon with a fibreglass Monaro body and an LS Chevy motor ,and is among the club's top competitors.

While many clubs race anti-clockwise on their tracks, the Waihi club races clockwise round its circuit, as does its sister clubs Waiuku and Meremere. "We have regular interclub challenges with Meremere and Waiuku as well as our own club competitions," says Rick.

For more information email waihibeachdirttrack@gmail.com or go to the website
waihibeachdirttrack.co.nz