Controlled environment trials to reduce Psa-V risk to the early maturing gold kiwifruit Y356 are showing very promising results, say Simon Dickie, who owns the plant protection rights to the variety.

Trials growing the kiwifruit variety Top Gold under cover are underway in an effort to reduce the risk of the vine disease Psa-V.

The cultivar, which is similar to Hort16A gold, is being grown under cover and Simon says this has presented a new set of challenges, but has also yielded much valuable information.

"Y356 is a diploid similar to Hort16A which was heavily challenged by Psa-V," says Simon, who has registered the fruit under the brand name of Top Gold. A diploid is an organism with two sets of chromosomes, one set from each parent.

"Because a cultivar is challenged by a bacterial disease does not mean it has no value. In the case of Psa-V we are learning that the disease activity is influenced by climatic conditions and if we can control the climate it is possible to re-establish some value for the fruit."

Hort16A, which is highly susceptible to Psa-V, (first discovered in New Zealand in 2010), has been removed from all but a few remaining commercial orchards. The variety, for which Zespri holds the PVR, was bred by Plant & Food, but is considered too difficult to grow now the vine disease Psa-V is widespread in kiwifruit growing regions.

Trials growing Top Gold under cover are being conducted in New Zealand and "other jurisdictions" but Simon won't say where.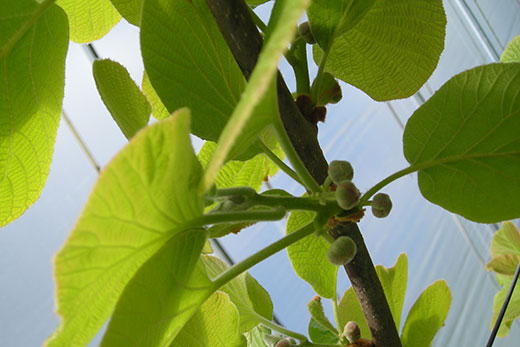 Investment rewarded
"We are working out how to get enough control over variations in climate. However, growing under cover presents some challenges such as what to do about rainfall and water. Pollination is another issue as we know bees do not work well under plastic. Also how does increasing the temperature affect maturity?"

The research is costly but Simon believes the investment will be rewarded. "Significant resources have been required and invested and we have got some really interesting information which is part of our IP.

"The outcomes could be significant because the diploid gold cultivar has a more appealing taste in certain markets than other gold varieties and those are high return markets," he says.

Variety rights
Y356 is described as "a kiwifruit plant particularly distinguished by very early maturing fruit, hairless fruit surface with conspicuous mid-brown lenticels, yellow fruit flesh, ovoid longitudinal and circular cross section fruit shape, slightly blunt protruding stylar end".

Simon, who has been growing kiwifruit since 1979, offered Y356 to Zespri but it was turned down. "It was not unexpected that Zespri would choose to look at alternative options out of Plant & Food, over which it would have exclusive plant variety rights."

Plant & Food bred Zespri's SunGold or G3 which has proved more tolerant of Psa-V and has virtually replaced Hort16A since the arrival of the disease, with growers cutting out the former gold and progressively re-grafting to the new variety.

Under current government regulations, kiwifruit grown in New Zealand can only be exported by Zespri, with the exception of fruit going to Australia.

Simon says a collaborative marketing arrangement for Top Gold with Zespri may be possible in future.

It wouldn't be the first time the fruit has been exported this way. In a landmark collaborative marketing agreement in 2011, industry regulator Kiwifruit New Zealand gave approval for First Fresh NZ Ltd of Gisborne to launch a consumer trial of First Gold, in Thailand and Hong Kong supermarkets.