What do two talented young wine makers, on holiday in Mexico, do when they discover the GFC has left them jobless?

Go to New Zealand, plant an apple orchard and start making cider, of course. Well, it wasn't initially that obvious to Simon and Rowena Pearce, but the Global Financial Crisis did serve as a wake-up call for the couple who had been travelling the world, working for wineries along the way.

Simon and Rowena Pearce have planted heritage apples to supply their O Cider business.

"We would move between hemispheres for work during a vintage, then travel for a few months after. While travelling through Mexico after a vintage in Canada we had been completely out of touch with what was happening in the world," says Rowena, who grew up in Wellington, while Simon was born in Western Australia.

"When we realised, because of the GFC, there were virtually no jobs for us, we wondered what on earth we were going to do. I guess it was more than a wake-up call to make a plan – it also made us realise it was time to 'grow up' and settle down."

Rowena and Simon had fallen in love with each other, and with cider, while working for a winery in the small town of Nannup, three and a half hours' drive south of Perth near Margaret River in Western Australia. When Rowena's family offered the couple the use of their rural property at Te Puna, they decided to begin a new career in cider making.

Tasting shed
"Nannup was pretty isolated, and very hot, and so those of us working there had to make our own entertainment, including hosting dinners, which began with wine matchings until someone brought along some cider," says Rowena. Initially sceptical, the group nonetheless put the cider to the test, quickly gaining an appreciation of the best of the apple and pear beverages.

Today Simon and Rowena make their own fine cider, under the brand name O Cider, at their cidery in Oikimoke Road, Te Puna. They've also set up the Tasting Shed for customers to sample their range of apple and pear ciders, and learn something of the cider making process.

The couple are also establishing an orchard, so far planting 300 apple trees of 20 different heritage varieties, selected for their cider-making attributes. Their own crops are small at present but those apples are used to produce their reserve cider Resident Hawk, a 750ml methode traditonelle cider made from hand sorted, crushed apples, which are partially fermented with wild yeast, barrel aged in seasoned oak, riddled and disgorged to create a premiere cider.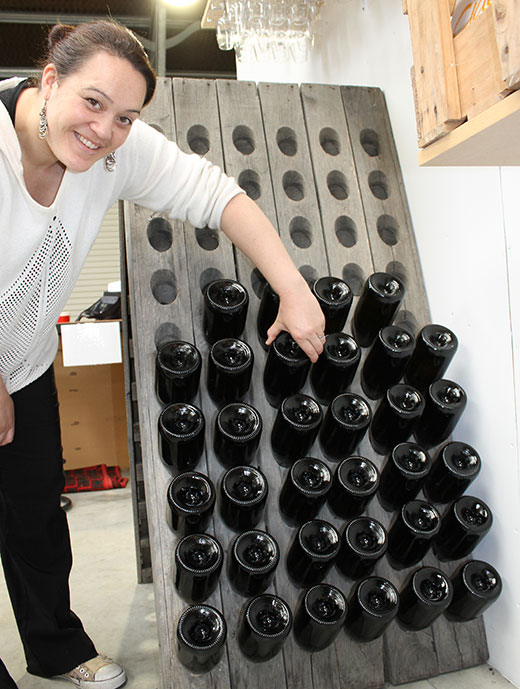 Rowena Pearce turns a bottle of Resident Hawk, a 750ml methode traditonelle cider, made by O Cider.

Mills Reef
Tim Preston of Mills Reef Winery has offered the couple advice and support, and made available the use of the company's kiwifruit wine-making equipment to process the fruit, with the final steps completed back at O Cider base.

Until the home orchard's production increases, apples and pears are sourced from the Waikato, with the apples ideally processed after being left to sit in the sun to enhance their flavour.

Rowena and Simon say the techniques essential to making excellent cider are much the same as those required to make great wines, so the transition hasn't been too difficult.

Committed to making traditional ciders, they use whole apples and pears, not concentrates, and yeasts they know will give the flavours they seek.

Cider may be an ancient beverage, but it's relatively 'young' in this country. It is finding favour with health-conscious consumers who want a light, refreshing drink which is gluten-free and natural.

Simon and Rowena, who are members of the Fruit Wine and Cider Makers of NZ association, say they are excited to be involved in an industry still in its infancy and to be part of its evolution.

To complement the ciders, Rowena is making her own line of French-inspired charcuterie products under her Mercado label. "We hope, with licensing permission, to extend our offering here at the Tasting Shed during summer to allow our guests to stay and enjoy a cider or two with a Mercado charcuterie platter."

Rowena credits Kate Lamont of Perth, one of Western Australia's well-known chefs and authors, for the inspiration and courage to create her own specialty food range.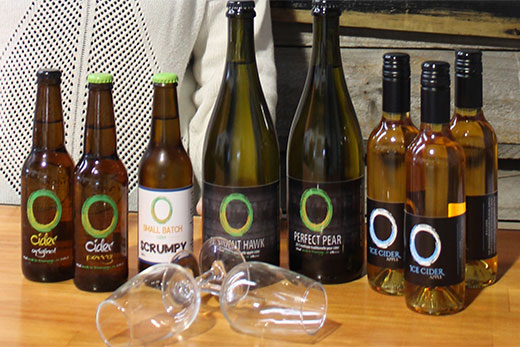 Pursue dreams
"I was fortunate enough to work for Kate and her family in Perth. I didn't even know who Kate was when I went for the interview, but she and her family embraced Simon and I and encouraged us to pursue our dreams."

Those dreams haven't focused solely on food and cider. They've also included starting a family, with baby girl Leigh born in July.

O Cider's Tasting Shed at 50 Oikimoke Rd, Te Puna is open Thursday to Sundays from 10am to 5pm. They can also be found at www.ocider.co.nz, which includes information about their range and stockists.