The term 4x4 is most commonly associated with four-wheel drive vehicles, but it's also very applicable to fighting fires, particularly in rural locations.

To get to a fire, appliances need clear access up the driveway corridor of at least 4m wide and 4m high, says Shane Baker, Senior Fire Fighter with the BOP Coast Fire Area, which manages the rural fire service in the Western Bay of Plenty.

Overhanging trees, such as this palm, can make it difficult for a fire appliance to reach a fire. Access ways should be least 4m wide and 4m high.

"We can't help you if we can't get our fire appliances and water tanker to you because the driveway is too narrow or has over-hanging trees," says Shane.

The standard fire appliance is a big vehicle and in the Western Bay region the rural fire service now has large water tankers which are longer so require a greater turning space through gateways.

"Access isn't usually a problem on dairy farms because they have tracks and turning circles for milk tankers, but it can be a different story on lifestyle blocks and orchards where driveways may be narrower and have over-hanging trees."

Remove obstructions
As summer approaches and the risk of fire increases, property owners are encouraged to check their driveways and remove anything which would obstruct a fire engine and tanker reaching their home or land.

Because of the distances involved, responding to a fire in a rural location takes longer than in urban areas but Shane says there are other important steps property owners can also take to assist fire fighters getting to the blaze as quickly as possible.

"The rural RAPID numbering system for identifying properties is very important. If an emergency arises, when calling 111, quote the property RAPID number as well as any property name.

Visible numbers
"The RAPID numbers should be visible from both directions and be located clear of long grass and other vegetation that could obscure the numbers over time. Obviously the numbers give us the exact distance of the property from the start of the road. However it is always great to be met at the gate by someone to show us the best access and give us an update on the fire and any other important information."

This can include information about hazardous chemicals or substances on the property which could catch fire and cause safety issues for fire fighters and the public.

"Buildings containing hazardous substances should have a sign fixed to the outside. The owners should have a data sheet, stored away from the building, with a list of what chemicals are stored, so that fire crews can contact their communications centre for advice on how best to handle the fire. Using water on some chemicals can cause explosions so we need to know exactly what we are dealing with."

Restricted season
It is also a good idea to have an alternative emergency access route if the property is large and is geographically challenging, Shane says.

If the property has an alternative water supply available, such as a pond or stream, these access ways should meet the 4x4 criteria.

"It is also a good idea to signpost access if it is not obvious. If the property has a pool, make sure a gate is available for us to carry a portable pump through to draught water from the pool."

From October 1 to April 30 2016 is the restricted fire season which means a fire permit is required for all open air fires, with the exception of gas-powered barbecues. Permits are free and can be obtained from the Western Bay of Plenty District Council (phone 0800 926 732) for rural residents or the Tauranga City Council (07 577 7000) for urban residents.

For more information go to www.nrfa.org.nz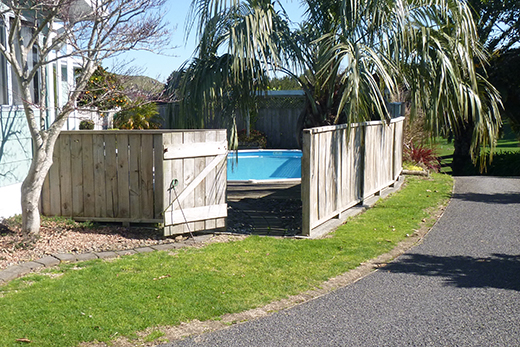 A swimming pool is an ideal alternative water source for fire fighters – provided there is easy access through a gate for portable pumps.