Installing an effluent system is a significant capital investment for any dairy farmer and Stefan Reichmuth of Hinuera wanted to be sure the one he chose was value for money, would do the job it was designed for and would also future proof his farm.

Stefan Reichmuth is happy with his Presco Group pond.

"I did a lot of research into the different companies and tanks and ponds available, and finally came up with a short list of two, which were very comparable in price," says Stefan.

"I chose to go with Presco Group because of the quality of their products and the extra service they provided and I'm delighted with the end result. I think the pond looks smart, doesn't detract from the landscape and because it is concrete, I have peace of mind that it won't leak."

Stefan says thanks to the low dairy pay-out, he probably couldn't have picked a worse year to build a new effluent system, but the Waikato Regional Council said his existing one had to be upgraded so there was little choice in the matter.

"I did tell council it would be upgraded in stages. At 630 cubic metres the pond has been designed to hold more effluent than my farm currently requires, but I have yet to install a pump on pontoons for irrigation so need to bring in a contractor to pump out the pond and spread the effluent on the pasture in the meantime."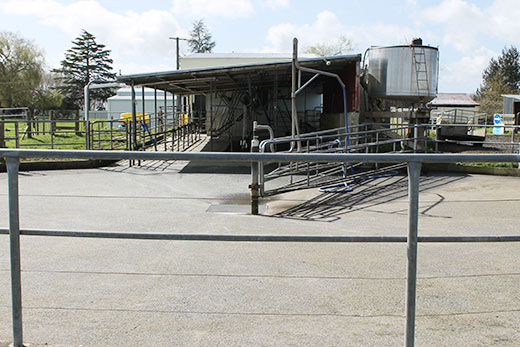 The 13-aside herringbone dairy continues to efficiently milk 180 cows of the Reichmuth farm at Hinuera.

Rural upbringing
Stefan will use the existing pump, which irrigated effluent from a sump adjacent to the dairy yards.

"I just didn't have enough holding capacity to meet council's 460 cubic metres requirements. Having the new tank in place before calving was great because I haven't had to worry about moving irrigators and the tank hasn't needed emptying so far."

Stefan and Wendy bought the 60ha dairy farm at Hinuera 14 years ago, not long after returning from Switzerland where Stefan had been working in quality control for a multi-national medical devices company, Schiller AG.

Wendy is English, but Stefan grew up in New Zealand – his parents John and Elizabeth Agnes Reichmuth emigrated here in the late 1950s from Switzerland.

"Wendy and I had our first son Christopher in Switzerland but by the time we were expecting our second son Samuel we decided to return to New Zealand so our children could enjoy the kind of rural upbringing I had."

The property, which had at one time been a deer farm, was run down and needed a lot of work but "the bones were good and the location is great".

Stefan runs a self-sufficient, grass fed system, growing his own silage and hay, but not feeding other supplement. "I'm an 'old fashioned' farmer and this is a relatively low-cost but efficient system."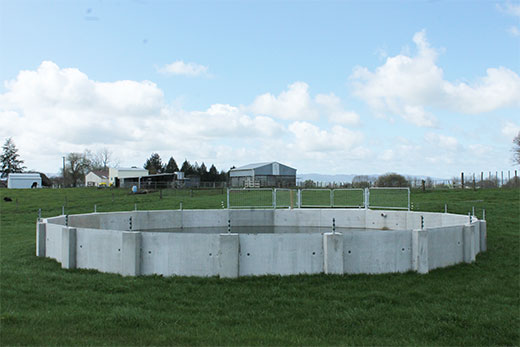 Effluent from the dairy is gravity fed to the pond on one of the few low points on the farm.

Gravity feed
The farm is virtually flat, and as Stefan wanted to gravity feed effluent to the new tank it had to be constructed in a slight depression 60m from the dairy shed yards.

He also employed a directional drilling company to install a new drainage line under the yard, taking effluent to the pond.

The appearance and design of the Presco ponds appealed to Stefan. "I'm not keen on normal ponds which have to have a fenced buffer area around them which has to be planted or maintained. With this tank I can graze animals right up to the edge with no worries.

"Because this pond is 3m deep at its perimeter, it has a smaller footprint than some others which was another factor for me."

Presco also supplied a precast sand trap which was installed a short distance from the pond, with a concrete apron so Stefan can easily clean it out with his tractor.

The approximately 32m diameter tank sits slightly above ground and has three hot wires around the top, plus gates to allow entry for inspection or servicing. Provision has been made for the future installation of the pontoon pump.

Presco designed and installed the new system to comply with Farm Dairy Effluent design standards and code of practice.

The pond is constructed of 20 panels of extra strong, (certified 40 MPa) concrete at 150mm thick which are steel reinforced to engineers' design.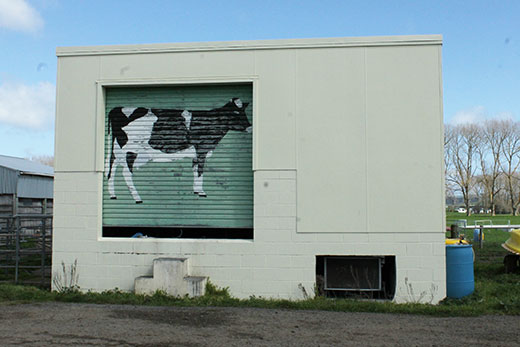 The Reichmuth farm is well known in Hinuera district for the cow mural on its vat room door, painted by N Blair in the 1980s, before the current owners bought the property.