They may be among the most beautiful birds in the world but their looks don't endear peacocks to the farmers who own properties they graze on.

Three peacocks can eat as much grass as one sheep and, because they are rapid breeders, scores of the big birds can take up residence on farms.

Hunters Tony Newth of Auckland, Dave Barrett of Whakatane and Blair Anderson of Tauranga with some of the peacocks shot for meat and feathers.

Whakatane couple Dave Barrett and Mawera Karetai provide a free solution to the problem thanks to their innovative business Feathergirl.

Dave and a team of experienced hunters cull birds for farmers who want them removed; and Mawera and Dave sell their plumage to clients throughout New Zealand and overseas.

"We started the business 10 years ago and are delighted at how successful it's been," says Mawera, who has a background in IT and business management, plus a strong interest in cooking and crafts.

"The free service we provide to farmers means they can get rid of pest birds without using poisons, which has to be good for the environment; and we are able to harvest birds for meat and feathers. Nothing is wasted."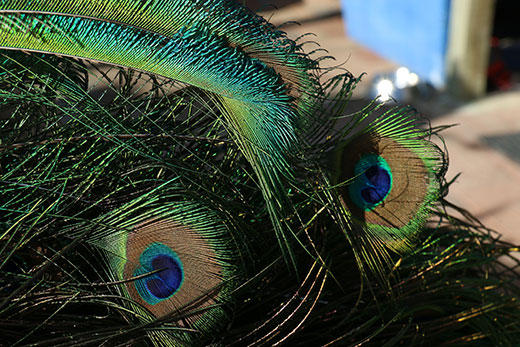 Keen hunter
Dave, a silviculture scientist originally from Canada, and keen hunter and trout fisherman, decided 10 years ago he wanted an improved work-family life balance.

With Mawera's help, he founded Feathergirl and its associated pest control service, so now he gets to hunt and fish and work just two days a week as scientist.

It's not just peacock and peahens Dave and the team hunt. They also shoot turkeys, lorikeets, rabbits, possums, hares and in the Manawahe area, wallaby.

Long-time friend, Blair Anderson of Tauranga often accompanies Dave when he's harvesting birds.

"It's a bit of a hobby for me but everyone involved takes what we do very seriously. We meet the farmers beforehand and talk about what birds they want removed, identify any safety issues and check out the location.

"When it comes to shooting the birds we do it in a way that is humane but doesn't damage the feathers."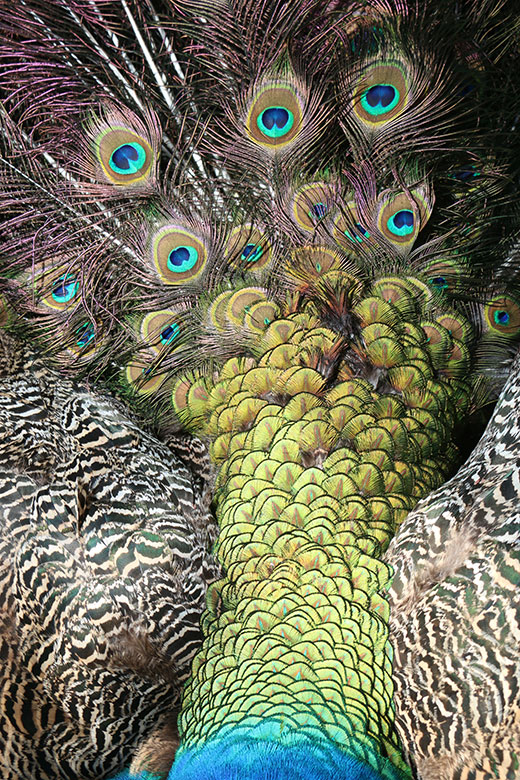 Nothing is wasted from these peacocks and pea hens, with feathers removed for sale and meat for sharing with family and friends.

Peacock kebabs
Blair, who works full-time job running the Waimarino water sport and adventure park and conference facility business at Bethlehem, says it's surprising how many peacocks there are on some farms. "Sometimes we can harvest 70 birds from just one property."

Blair says peacock meat can be cooked in a number of ways and his friends and family have come to appreciate the peacock and rabbit kebabs, which are among his specialty dishes.
Mawera says she and Dave are proud of the business they have established and delighted at the ways in which their feathers are used.

"The production company Three Foot Six involved with the 'Hobbit' movies used our feathers to hand-craft 4000 quills for the movies. The Maori warriors who challenged teams before the New Zealand Rugby World Cup matches had our feathers in their hair."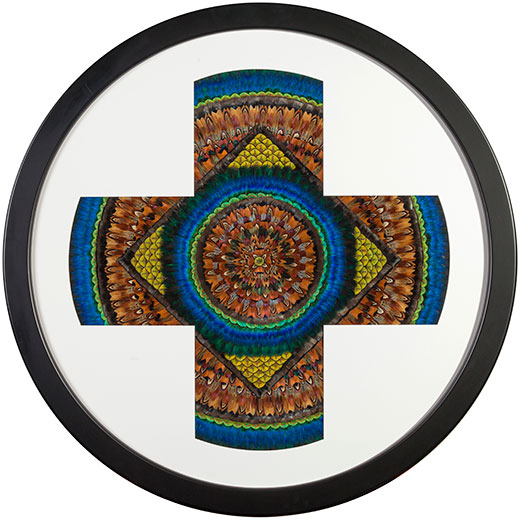 Opotiki artist Fiona Kerr Gedson created this piece from pheasant, peacock and turkey feathers supplied by Feathergirl. Photo: Jos Van De Laar.

Feather ties
Award winning artists, including Fiona Kerr Gedson of Opotiki and fashion designers, use Feathergirl feathers which are also in demand for wearable art competitions. The Feathergirl website features images of feather lampshades, feature ties, feather wreaths, feathers hand-painted with intricate images, feather fascinators and much much more.

"It gives us a real buzz and tremendous sense of pride to know that we are providing quality feathers which are being used in so many imaginative ways, at the same time offering a pest control service which is chemical free, and ensuring nothing from the birds and animals we harvest goes to waste."

Mawera has become such an expert in cooking wild foods, she's given many cooking demonstrations and written a regular newspaper column.

"Once the birds are brought in, we remove and grade the features by hand, then cut up the meat. What's left goes to feed pigs so there is nothing leftover."

Feathergirl export feathers around the world and Mawera is happy to help craftspeople learn to work with feathers. There are instructions on the website for painting feathers, making fascinators, wreaths, fishing flies, quills and even feather trees.

To find out more go to www.feathergirl.co.nz

Dave and Mawera are keen to hear from property owners who want to use their free pest control service. For inquires, email mawera@feathergirl.co.nz