Neil McKinley had had enough of being caught round the neck by electric tape strung across raceways when riding his quad bike in poor light, so he set about finding an answer.

"Too often tape will be left up, or someone will forget to tell you it was there and standard race tape can be near-invisible," says Neil, whose solution is an expandable plastic product he calls CeeMee Click.

CeeMee inventor Neil McKinley with Delwyn Wilkins and Bianca McKinley on the CeeMee stand at Fieldays.

It's made of heavy duty, brightly coloured plastic panels linked together by a patented flexi-hinge and looks quite similar to a paper chain that a child might make.

It's far more supplicated than that however, as Neil demonstrated in the innovation centre at Fieldays.

He designed the dyes from which each section of the system is manufactured. Thanks to the hinges, the barrier, which comes in lengths from 5.8 metres to 7.6 metres, folds back on itself into a compact, easy to carry unit, ready for its next application.

It's not electrified but the colour and movement are enough to deter cows from walking through it. The system also had application in crowd control or to section off unsafe areas in a commercial or public space.

"The biggest challenge I had was finding a material which would not break down in UV light," says Neil, who, as well as being an inventor, is a full-time dairy farmer from Ngakuru, Rotorua.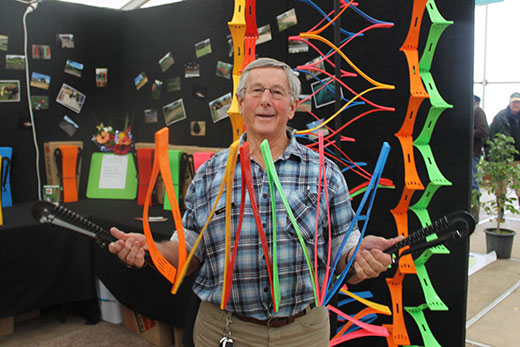 Mike Tuck holds a multi-coloured version of the CeeMee Click barrier on the company's stand at Fieldays.