Seeka Kiwifruit Industries has packed a record number of trays in the just-completed 2015 kiwifruit harvest, handling more than 26.3 million class one export trays, compared to 20 million class one trays in 2014.

Seeka growers provided a clean crop and this aided smooth harvesting operations.

The total volume of all classes of kiwifruit is expected to exceed 27.4 million trays this year. This compares to the 24.944 million forecast to shareholders in April 2015.

Both Hayward green and gold class one volumes are up. The total number of Hayward packed or in store for 2015 is 21.8 million trays, compared to 18.1 million in the previous year.

Gold volumes in 2015 totalled 4.3 million trays and compare against 1.7 million in the previous year. Seeka also packed about 200,000 trays of the Zespri G14 SweetGreen.

Seeka chief executive Michael Franks says the volumes are likely to be positive to earnings in the current year but cautioned there is still a lot of fruit in storage and still to be sold. Zespri has already released lower forecast per tray returns reflective of the higher crop volume to be marketed this season.

Challenging season
Michael says this year's harvest was a very challenging season. Seeka did well to recover
from a devastating fire at its mega postharvest site – Oakside. This site handled more than nine million trays in 2015. Adding to this pressure, the industry had to contend with inclement weather patterns and load out inefficiencies arising from the new market supply system.

Despite these challenges packing was completed on June 12 – only three days later than 2014.

"Green yields were exceptionally good and fruit quality excellent. Supplying growers took particular care to provide a clean crop and this aided smooth operations in our packing sheds.

"All parts of the Seeka supply chain, from orchard to coolstore performed well."

The Hayward crop, which has been the backbone of the industry through the effects of the vine disease Psa-V, was well up on expectations.

The average orchard yield across the Seeka catchment is 11,700 trays per hectare (42.12 tonnes) representing an increase of 26 per cent over last year's average yield of 9300 trays (33.48 tonnes). Similarly the Hayward organic yield was up 29 per cent at 7852 trays (8.267 tonnes) per hectare.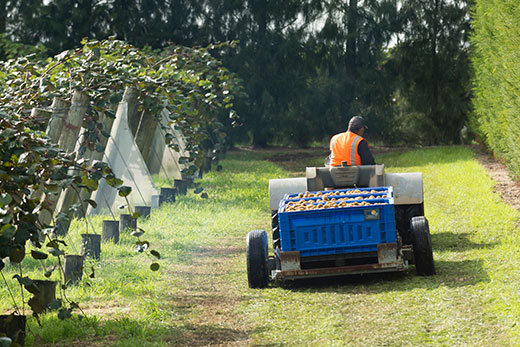 Seeka's own orchard operations featured well, with a crop increase this harvest season.

Own orchards
"Seeka's own orchard operations featured well in the increase, and in particular the long-term leases that are now progressively coming back into full production having had significant investment in their redevelopment." In total the long-term leases yielded 928,000 trays in 2015, well up on the 441,000 trays produced in 2014.

Seeka increased cool storage capacity by two million trays to handle the additional harvest volumes predicted for 2015. It invested about $5 million in a new coolstore at Oakside to store about one million trays along with a second one million trays of storage constructed at the Pioneer site by the landlord through a commercial leasing arrangement.

Michael says the company is pleased with the performance to date and thanks all supplying growers, contractors and staff for their efforts, and again praises the efforts of the response teams, firefighters and contractors for their response to the Oakside fire.

Seeka will provide current year financial guidance when it updates stakeholders in October.