Top performing international race horses are fed on specialist products grown and produced at Reporoa – and soon valuable Middle Eastern racing camels could be eating them too.

Innovative family company Fiber Fresh grow and produce the range of feeds scientifically proven to enhance animals' natural digestive development and function.

Michael Bell founded Fiber Fresh 30 years ago at Reporoa.

And so good are its results now Middle Eastern Sheiks are showing interest, says Fiber Fresh national sales manager Bob Bell.

While the Middle East may be half a world away, in New Zealand the company is well placed to deliver specialist camel foods. "Camels have both ruminant and equine type stomachs and we specialise in feeds for cows and horses," says Bob.

Founded by Michael Bell 30 years ago, Fiber Fresh has grown into a company with a strong reputation in the world of horse racing.

Last year four horses fed on Fiber Fresh products took first place in the nine-race Dubai World Cup programme – the richest day of horse racing in the world.

Amber Sky, Sterling City, Just a Way and Gentildonna collectively earned their connections US$7.9m in prize money – about NZ$9.1m.

The worlds of horse and camel racing couldn't have been further from the mind of 15-year-old Michael Bell, as he drove a TD9 bulldozer helping his family break in land at Reporoa in the 1960s. He did, however, dream of one day owning a global company.

"I didn't know what it would be or how it would happen but I believe you can achieve almost anything if you set your sights on it and are prepared to work hard," says Michael.

It was the decision of Bob Bell senior to move from the prime dairy region of Taranaki to the 'backwater' of Reporoa to develop farms for his five sons which was the genesis for Fiber Fresh.

The land was covered in scrub and few believed it would make good grazing, but the Bell family established drystock farms there.

Early on Michael had an interest in animal nutrition and especially the benefits of lucerne and how to turn it into an even better feed source.

Over time the company developed a unique system of forage harvesting and preservation, including a Fiber Fresh proprietary fermentation process that produces superior forage feed unlike anything else in the world.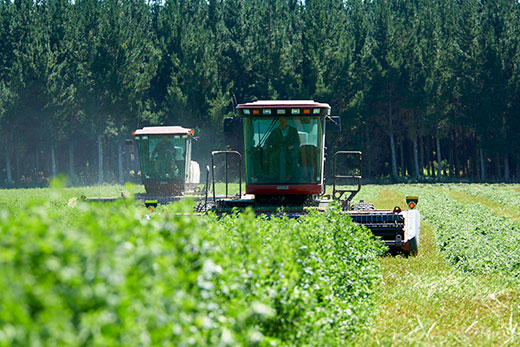 Fiber Fresh harvests crops from 1200ha of land at Reporoa.

Stomach ulcers
Bob says the company and its clients have always known horses perform better on Fiber Fresh products but recent studies with Massey University and other research organisations in New Zealand have confirmed its positive effects on stomach ulcers in horses.

In a peer-reviewed scientific study, when fed at recommended levels as the sole feed to spelling horses, FiberProtect provided dietary relief of symptoms of gastric discomfort, corrected an acidic stomach environment and returned the stomach to a normal healthy condition within 14 to 28 days in 100 per cent of horses studied.

FiberProtect was also shown to be effective as an aid in the management of gastric health in active horses following the reintroduction of high grain racing or competition diets.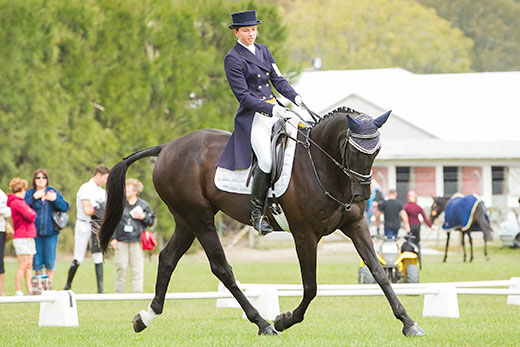 Up-and-coming eventor Samantha Felton is one of the sponsored riders Fiber Fresh supports.

NZ only
Fiber Fresh Feeds is the only New Zealand-based feed company with an active scientific research and development division.

The company is supported by the New Zealand Government, through the Ministry of Business, Innovation and Employment's Callaghan Innovation fund and New Zealand Trade and Enterprise.
Through a number of research trials completed in partnership with AgResearch and Callaghan Innovations, Fiber Fresh feeds have proven to play a significant role in rumen development.

Calves reared on Fiber Fresh have 18 per cent heavier rumens than those reared on conventional meal-based systems.

They have greater papillae growth and better rumen wall development which results in better rumen metabolic function, enabling calves to digest and extract nutrients more efficiently once on pasture.

Rumen development
"The first 10 weeks of a calf's life are crucial to the development of its rumen. If it doesn't develop fully in that time it never will, and the adult animals will never reach their full potential," says Michael.

"Our products are truly 'fresh'. This means the crops are harvested at the optimum time to retain nutrition and avoid degradation, and then managed carefully and efficiently in order to retain critical nutrients.

"In order to achieve this, we have an integrated manufacturing process whereby all our crops are grown and harvested within a short distance of our production plant in Reporoa.

"We control all the different elements of the process, from planting through to manufacturing," says Michael.

Bob says many of the company's clients claim bigger and better heifers entering their dairy herds, which go on to lift production.

Fiber Fresh now employs about 50 people and harvests crops from 1200ha of land at Reporoa.

It has a wholly owned subsidiary in Japan and is a long-time supplier to the Hong Kong Jockey Club, the Singapore Turf Club and the Macau Horse Racing Company.

It also has Dubai-based Fiber Fresh United Arab Emirates CEO Ian Pryor, who is exploring the potential expansion of the company's export business in the Middle East.