Bovine tuberculosis isn't as common in New Zealand as it once was but outbreaks still occur – and when they do it's both financially and emotionally stressful, says Sara Russell-Muti of OSPRI New Zealand.

Sara Russell-Muti of OSPRI New Zealand is urging farmers to support those who have TB in their herds through what is a very tough time.

"I urge farmers to support those who have TB in their animals as they can often feel ostracised and isolated at what is a very stressful time," Sara told the Bay of Plenty Federated Farmers' annual conference.

OSPRI was established in July 2013 to manage the TBfree New Zealand and National Animal Identification and Tracing – known as NAIT – programmes. OSPRI officers are the ones who visit farms where reactors have been found.

"We are often not the most popular people at the time, but as we work more closely with farmers we find out groups like Federated Farmers and Rural Women have been quietly giving them support which is excellent."

Sara says some farmers are worried they may pick up the disease and transfer it to their own animals if they visit an infected farm. However, research shows that doesn't happen.

TB is not spread by vehicle tyres or human footwear and tests have shown the bacteria cannot grow on pasture after four days.

The Bay of Plenty region currently has no infected herds, although there is one at Atiamuri. Plus, seven herds owned by one business entity in the Waikato currently have TB.

Six of those herds are considered high risk and are made up of four dairy herds and two drystock herds.

In the Waikato case 106 animals have been killed to date but not all had TB.

"Our test is on a scale of one to 100 and anything over 70 is slaughtered to reduce the likelihood of re-infection," says Sara.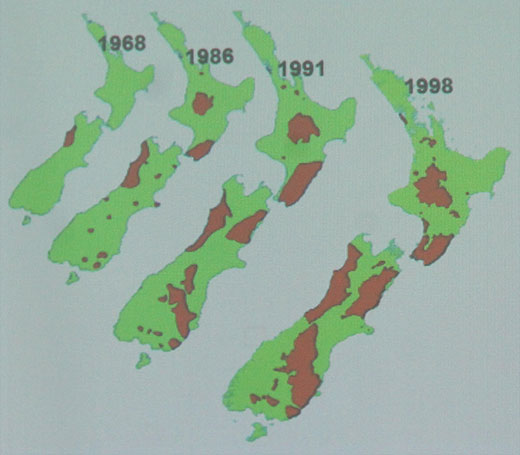 The 'problem years' for TB in New Zealand's livestock were from 1968 to 1998.

Gypsy week
The animals had been moved between several farms owned by the same enterprise and although stock can be moved 20km without notification this applies to the first movement only. In the Waikato case some stock had subsequently moved 84km from their first location.

"TB is never far away. New Zealand farmers are great traders and like to move stock around."

Sara says there are thousands of animal movements each year with a spike around Gypsy Week in early June, when farmers often move to newly-purchased properties or to start new jobs before the new season begins.

As well as cattle spreading the disease, the risk of infection from possums and feral pigs continues to be high.

OSPRI is working with hunting clubs and the organisers of hunting competitions such as the Te Puna Big Four to educate hunters about what TB looks like and what to do with a carcass if they shoot an infected animal.

"TB can't survive outside a warm, moist environment for very long, but freezing infected meat won't kill it."

Once thawed the bacteria "revives" which is why it's essential to cook frozen meat before feeding to dogs.

Human TB
TB is a bacteria disease causing solid abscess in lymph nodes, lungs and body cavities caused by mycobacterium bovis, a close relative of the human form of TB.

It probably arrived in New Zealand with European colonists in 1830 or 1840s.

Compulsory testing for TB in dairy cattle began in 1961. In 1967 it was found in a possum.

In 1970 compulsory testing of beef cattle began. In the years from 1986 to 1998 the disease spread throughout the country.

TB is spread by possum, but ferrets can also spread it. It spreads directly in cattle through prolonged close contact including from cow to calf immediately after birth or through milk in the case of an infected udder.

Each infected cow is likely to infect two to four others each year but latent cows can harbour TB for years without spreading it or reacting to testing.

There are some cows with prolonged infections which don't react to testing. Other cows are referred to as 'super shedders' which excrete large numbers of bacteria.

NAIT help
The NAIT system can help in tracing animal movements. "We can look at movements into a herd from risky herd areas and to look for the source of infection. In future, NAIT data will enable us to change to risk-based surveillance."

Sara says the best way to protect herds from TB is to keep up-to-date with TB testing and take care when purchasing stock.

"The lowest risk is to buy from closed C10 herds in vector-free areas. Check the animal status declaration form for the last TB test date and be sure the animals purchased were in that test.

"Newly-assembled herds are a risk. We now suspend them from registration until they've completed a test. Ensure new herds are registered," says Sara.

If selling a herd, ensure any tests are organised well in advance to give time to complete blood tests and slaughter inspection in case of reactors.