Exquisite green 'baubles' studded with gold festoon the fronds of miniature palms, turning them into surreal versions of exotic Christmas trees.

Here and there hang transparent, empty baubles, from which have emerged even more splendid 'decorations' - bright orange and black butterflies.

Volunteers at Te Puna Quarry Park would like others to join them in maintaining the gardens.

This is the scene inside the butterfly house at Te Puna Quarry Park where Monarch butterfly caterpillars big (and fat) enough to pupate are moved to do so in safety.

For in the outside gardens where they have hatched from eggs and gorged themselves on swan plants, danger, in the form of wasps and praying mantises, lurks.

The house is the domain of Te Puna Quarry Park's butterfly lady Mary Parkinson who, in autumn, catches newly-emerged butterflies and gently applies a numbered sticker to one wing. It's all part of the citizens' science project co-ordinated by the Moths and Butterflies of New Zealand Trust to discover where the butterflies overwinter so only the late-season butterflies are tagged.

Anyone spotting a tagged butterfly in their garden is encouraged to catch the insect, and record its number on the website www.mb.org.nz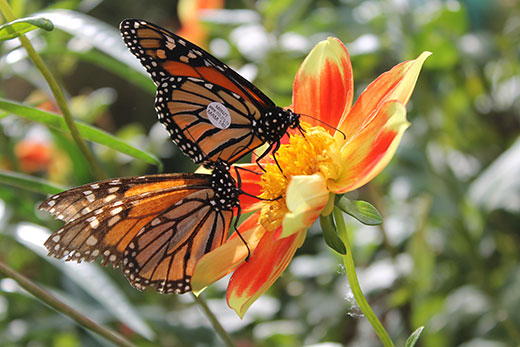 Monarch butterflies are tagged at the Te Puna Quarry Park so researchers can trace where they go, in winter.

Admirals too
Monarchs are not the only butterflies in the quarry gardens. A wide range of flowering and food plants have also been established to encourage red and yellow Admiral and native butterflies.

Attracting butterflies is just part of the work of the team of gardeners, tractor drivers and handymen and women who are now in need of some younger helping hands.

"Many of our volunteers include people who have been working at the quarry since the project began almost 20 years ago, and we're obviously getting older," says Ian Cross.

"Our oldest volunteer is Alf Renndell who is 97. We would welcome some younger people to join us, maybe retired farmers or orchardists with good practical skills, as well as people who enjoy gardening, landscaping and building."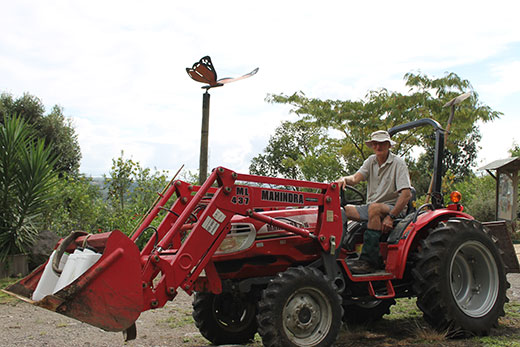 Te Puna Quarry Park volunteer John Hamilton delivers containers full of worm tea to help nourish the butterfly garden.

Very social
At 8.30am every Tuesday the volunteers meet at the 12 ha park and individuals or groups head off for a morning carrying out any tasks, including weeding, planting, small construction projects or moving plants and materials around the site with tractors.

"It's very social; some say the morning tea break is the best time of all. There's no pressure to turn up every week. We just appreciate the time and effort everyone gives."

The park is popular with tourists and locals attracted to its lovely gardens, pleasant walking tracks and, from the upper levels, spectacular panoramic views over the Bay of Plenty.

It is volunteers who maintain the walkways and special interest areas which include cymbidium orchids by the thousand, native tree plantings and exotics such as vireya rhododendrons and a wild garden. There are irises, cacti and succulents, bromeliads, an Australian area, a native arboretum, a bonsai corner, a South African area and a palm grove.

To join the volunteers at Te Puna Quarry Park, call Ian Cross on 578 8735.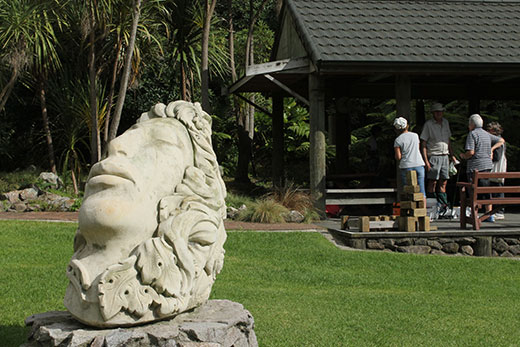 The Te Puna Quarry Park has a permanent outdoor display of 43 sculptures.