Jodie Mexted's workwear has gone from office suits to overalls, and the winner of the 2015 Bay of Plenty Farm Manager of the Year award is loving the change.

"I grew up on a dairy farm but never thought about dairying as a career."

Jodie Mexted is loving her new life as a dairy farmer.

Instead, she gained a Bachelor of Hospitality and Tourism Management at Otago Polytechnic and worked at the James Cook Hotel in Wellington before going overseas.

"When I was planning my OE I decided I could hardly say I was from a dairy farm when I hadn't done much milking so I helped out on my parent's farm before I left and really enjoyed it."

Instead of returning to the hospitality industry, Jodie, aged 29, took the role as farm assistant on the Whakatane farm owned by her parents, Michael and Linda Mexted, when she came back from overseas and she's been there ever since.

In three years she's progressed from being a farm assistant on the 530-cow farm to managing it. Her next step is to go contract milking.

"I never realised what opportunities dairying offered and it's not just hands-on farming. There are lots of skills required in farm management too."

It is, however, the hands-on Jodie loves – especially calving.

"I really enjoy the busy times of calving and mating. I love milking and working with the cows."

With three staff on the farm she's not in the dairy all the time and relishes the opportunity for tractor work and pasture management.

Cross credited
There may appear to be very little in common between hospitality and dairy industries but Jodie says many of the skills she learned working in the James Cook Hotel have 'cross credited' to her new career.

"I managed staff in the hotel which had excellent human resource systems and I've been able to use those ideas on our farm," says Jodie, who also won the BOP dairy awards Primary ITO Human Resource Management Award.

"The computer skills I gained have also come in handy, especially since we installed Protrack drafting system in the dairy."

As well as learning practical skills, Jodie has been studying through Primary ITO and hopes to take further courses in taxation and investment, and artificial insemination.

"I've been really impressed at how willing people in the dairy industry are to share their knowledge and help each other. In the hospitality industry it's very competitive but in the dairy industry we're all in this together and if one of us is better off, someone else is not worse off."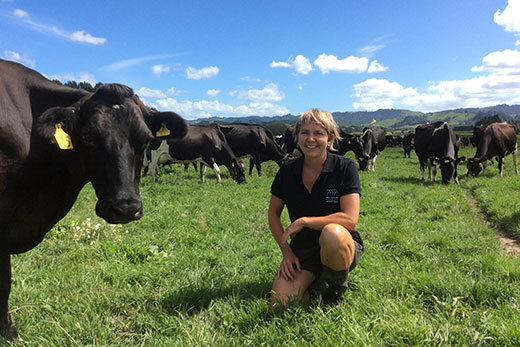 Self-sufficient
The Mexted farm is low lying and can be wet in winter so cows are moved to a run-off.

Maize and lucerne are grown for supplementary feed, helping keep input costs down and making the business more self-sufficient.

"We've been lucky this summer to get enough rain to keep the cows milking twice-a-day. We have paspalum, which helps with grazing at this time of year, and using it in a 12-day rotation makes sure it's not too long for cows to eat and helps preserve existing rye grass."

Jodie, who also won the Bell Booth First Time Entrant Award and the Bay of Plenty Regional Council Environment Award, has plans for more trees on the family farm.

"This winter we'll plant more to provide shelter and shade for the cows."

Becoming self-employed and owning her own herd is Jodie's long-term goal, but despite the career change, aspects of the hospitality industry still hold appeal.

"I love to cook and a friend Rachel Thompson and I regularly did the catering for events at the Edgecumbe Squash Club last year.

"I love the country life in the Bay of Plenty but still sometimes miss the city – shopping in particular."

She'll have the chance to indulge in retail therapy by spending some of the prize money she won in the awards buying a new dress for the big night when she represents the Bay of Plenty at the National Dairy Industry Awards at SkyCity on May 2.