Relief milking when he was a student to make money for motocross events convinced Paul Manion to study agriculture at university as his first step towards a farming career.

Paul Manion identified early on that the dairy industry held the career for him.

"Farms are a great place for kids to grow up and dairy farming means parents can spend more time with their children," says Paul, who with wife Kate have won the 2015 Waikato Farm Managers of the Year award.

"It's also an opportunity to build your own business – I was hooked."

Paul has a Bachelor of Agricultural Commerce from Lincoln University and Kate has a Bachelor of Science from Canterbury University and a post graduate Diploma in Teaching from Waikato University.

It's five years since they entered the dairy industry, and Kate and Paul now have two children – Rupert, 22 months, and William, nine months – and are discovering dairying does indeed enhance family life.

"Dairying can be a lot of hard work, and long hours, but I can be around home to spend time and help out with the children."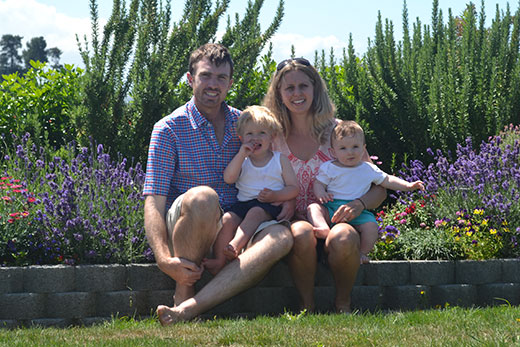 Family time is important to Paul and Kate Manion, the 2015 Waikato Farm Managers of the Year, pictured with sons Rupert and William.

Move rapidly
Paul says his Lincoln studies have helped significantly in enabling the couple to move rapidly through the dairy industry. After just six months as farm assistant in his first job, Paul progressed to farm manager.

Next was a contract milking position on a 470-cow farm and now the couple, both aged 29, are contract milking 485 cows for "great farm owners" Jonathan and Mary Robinson at Cambridge.

It's the third time Paul and Kate have entered the dairy awards and the couple say taking part is not all about the prizes, which they admit are awesome.

"Our next goal is to go 50 per cent sharemilking but these jobs are hard to get, so taking part and doing well in the awards does give you an edge and a point of difference," says Paul.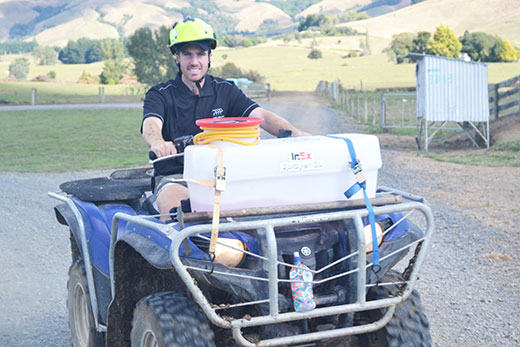 Polished presentation
The couple used the previous feedback from judges in their preparation for the 2015 awards, and planning began last June.

They systematically went through all aspects of their farming business and by December had collated the information and were polishing their presentation.

It was a useful exercise which made them look closely at their business and refine areas needing attention.
"Taking part in the awards is also a great way to network, meet like-minded people and get your name out there in the industry."

The system three Cambridge farm the couple live on is flat to rolling with a 54-bail rotary dairy.

"It is a well-set up farm which has been in the Robinson family for four generations. The whole farm has been designed to operate as a simple one herd system," says Paul.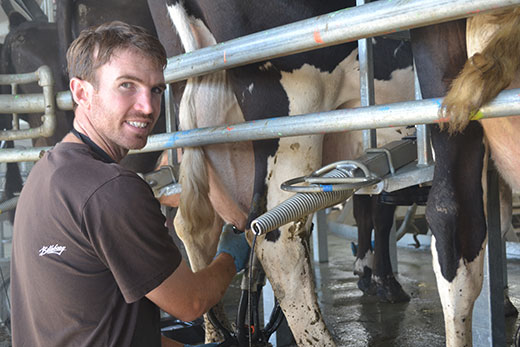 Targets met
"I like the simplicity of the systems, which work well. This year we brought in six hectares of maize and 300 tonne of palm kernel, and because of the dry summer we began feeding out on January 16.

"We've also been getting rid of culls early."

Despite the dry summer, the Manions have met their targets.

Cows were producing 1.4 kilograms of milk solids in mid-March and are on track to keep milking until the end of April.

Dairying, says Paul and Kate, rewards hard work and it's an industry in which they want to continue to succeed.

The couple also won the New Zealand Farm Source Farm Management and the Westpac Financial Planning & Management awards in the Waikato dairy awards.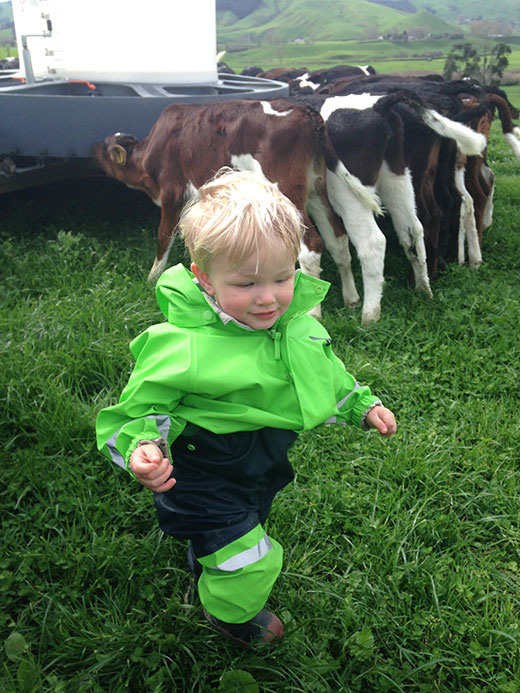 Farms are a great place to bring up children – as demonstrated by Rupert, the son of 2015's Waikato Farm Managers of the Year Kate and Paul Manion.