A Katikati couple says there's always something new to learn when you're growing avocados and keeping pests at bay – even after 40 years.
Don and Daryan Grayling could be excused for putting their feet up after decades spent developing their avocado and kiwifruit orchards near Katikati.
But Don, who was born and raised on the Matahui Road property, says there's always something to do.
"Growing up, it was a dairy farm, and Daryan and I milked 180 cows here for a few years after we took over from my parents.
"Horticulture is a lot more leisurely than milking cows, but we converted everything ourselves and still do what needs to be done to keep things ticking over. Across both crops, you never stop learning."
The growing popularity of kiwifruit in the 1980s saw land prices take off in the area, prompting the Graylings to sell off some of their dairy farm and use that money to invest in kiwifruit and avocados.
Today they have about 500 mature avocado trees across 7ha, producing about 20 tonnes/ha on average every year. Consistently yielding well above the industry average is no mean feat, but Don says it helps when you have mature trees to work with.
Participating in research
Early adopters of avocados in Katikati, Don and Daryan were always keen to investigate new or different ways of doing things. That approach continues today.
The couple were among eight Bay of Plenty growers who participated in a three-year trial involving Plant & Food Research and NZ Avocado that aimed to develop a sustainable tool to manage leafroller in avocado orchards.
The trial involved the use of a tool loaded with synthetic leafroller pheromones and hung from their avocado trees in spring. These tools, called Isomates, had the effect of disrupting communication between male and female leafroller moths to minimise their mating. Remaining active for up to six months, Isomates have proven effective at limiting leafroller numbers and the damage they can cause to fruit quality and export pack-outs.
Trial results after three years were so impressive that the Graylings took the opportunity to buy the Isomates commercially for the 2020-21 season. They hung 3000 Isomates across their avocado blocks, averaging six per tree.
These had the effect of keeping leafroller numbers down. They only had to spray once for leafroller in December after a bout of rain, compared to a normal season when they would typically spray up to three or four times due to leafroller incursions.
"DMS Te Puna handles all our pest monitoring and we still have to spray for six-spotted mites and thrip, but anything that we can do to save money on sprays has to be a good thing. Plus these new approaches to pest management is where the industry is heading.
"There's a cost with the Isomates, but the end result is less leafroller damage and higher pack-out rates, which is money in our pocket. So the idea is that they pay for themselves over time."
Supporting Avoco
DMS Te Puna packs the Grayling's fruit before it is shipped offshore by Avoco to meet the needs of hungry consumers in Australia and Asia. The couple have supplied a variety of exporters over the years but Don believes Avoco's depth of export experience and solid in-market partnerships benefits growers the most.
"Next season will be very interesting with the big Australian crop and Chilean fruit creeping in over there. There are also big plantings happening up north that might change a few things. But we're very happy with the Avoco model."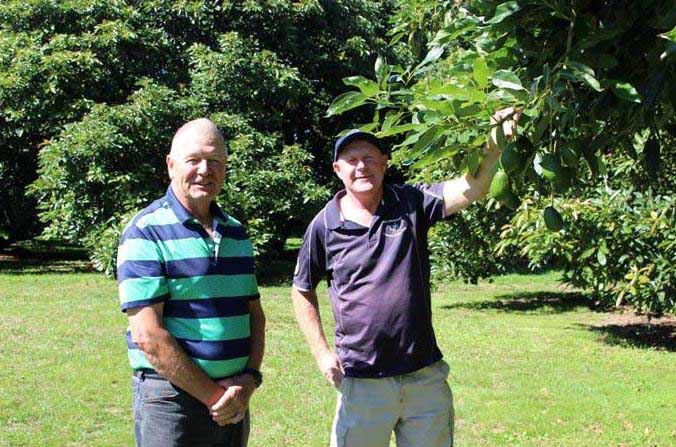 Don Grayling, left, and Phil Chisnall from DMS Te Puna in the Grayling's Katikati orchard.