Beneath the surface
with David Law
Forward Farming
With 1km of stream winding through Total Replacement Therapy's newest focus farm, the team has been presented with an opportunity to not only measure the reduction of synthetic nitrogen on farm, but the wider environmental benefits as well.
Scylla Farm is 180ha. It was purchased 18 months ago as a family farm and is managed by Mohi Beckham.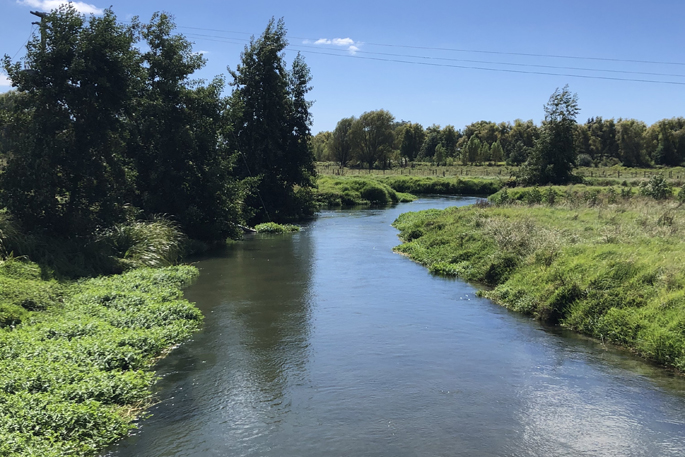 The farm is currently undergoing a dramatic transformation from a chemical to a biological system.
An experienced dairy farmer, Mohi first read about regenerative farming in the mid-2000s. He felt it was the best way to farm but wasn't sure where to start.
When he saw the beautiful spring-fed stream running through Scylla Farm, it reinforced to Mohi that regenerative farming was the only pathway to protect the farm and surrounding land for future generations.
Mohi found most regenerative companies gave the farm team the big picture but couldn't tell them how they were going to get there. And most regenerative programmes had a two-three-year down time before the farm would see some real changes.
The Total Replacement Therapy team has its own interpretation of what is traditionally known as 'regenerative farming', with our adaptation suited to New Zealand dairy farming's grazed pasture systems.
Here to stay
Although we are all after the same result, we each have a different process of getting there. Our method is not a trend or a flash in the pan; it's here to stay.
So, when Mohi heard about Alan Law's Whakatane dairy farm – 18 months into an incredible journey to grow more grass with less synthetic nitrogen, at a lower cost – he was thrilled to discover that Total Replacement Therapy had a clear, eight-step programme to follow, rapid results, and a guarantee to stay within his existing fertiliser budget.
"We did a lot of homework before choosing a system, and while we've only just started, we can see that it won't take long to work our way through the eight steps," says Mohi.
"So far, I've really enjoyed working with the Total Replacement Therapy team. There is a lot of support there that is extended to us regularly to ensure everything is going to plan.
"If they don't know the answer to something, they will go away and find out; there is a real human factor there. They are open to ideas and never disrespect other companies."
As Scylla Farm is located in a catchment, the Total Replacement Therapy team met with Regional Council in April to plan a schedule of testing that meets national standards. We want to ensure Total Replacement Therapy ticks all the boxes and meets nationally set environmental standards.
Another example
We've seen the on-farm results – reduced nitrogen, more clover, healthier soil and lush pasture – but now it's time to give another farm some of the focus as we reach toward a goal of testing and success from an environmental point of view.
At our Whakatane demonstration, farm owner Alan Law continues to see amazing results both in the paddock and on the farm balance sheet, and we will continue to report on him as more exciting milestones are reached.
The eight-step method we've pioneered is succeeding, transparent, and with a clear process and end goal – something Mohi found elusive when looking for regenerative information.
We are not saying Total Replacement Therapy is the be-all and end-all, we are simply showing farmers that there is a method out there consistently delivering both on-farm results, and measurable environmental successes.